Learning to play a musical instrument is a rewarding endeavour that knows no age limits, so it's never too late to realise your dreams of playing the violin!
For adult learners, there are few better places to get started than in London, England, because of the wide number of learning options available for beginner violin tuition tailored specifically for adults.
London also boasts a world-class music scene with live music concerts featuring the violin and other string instruments almost every day of the week … so you'll never be short of inspiration!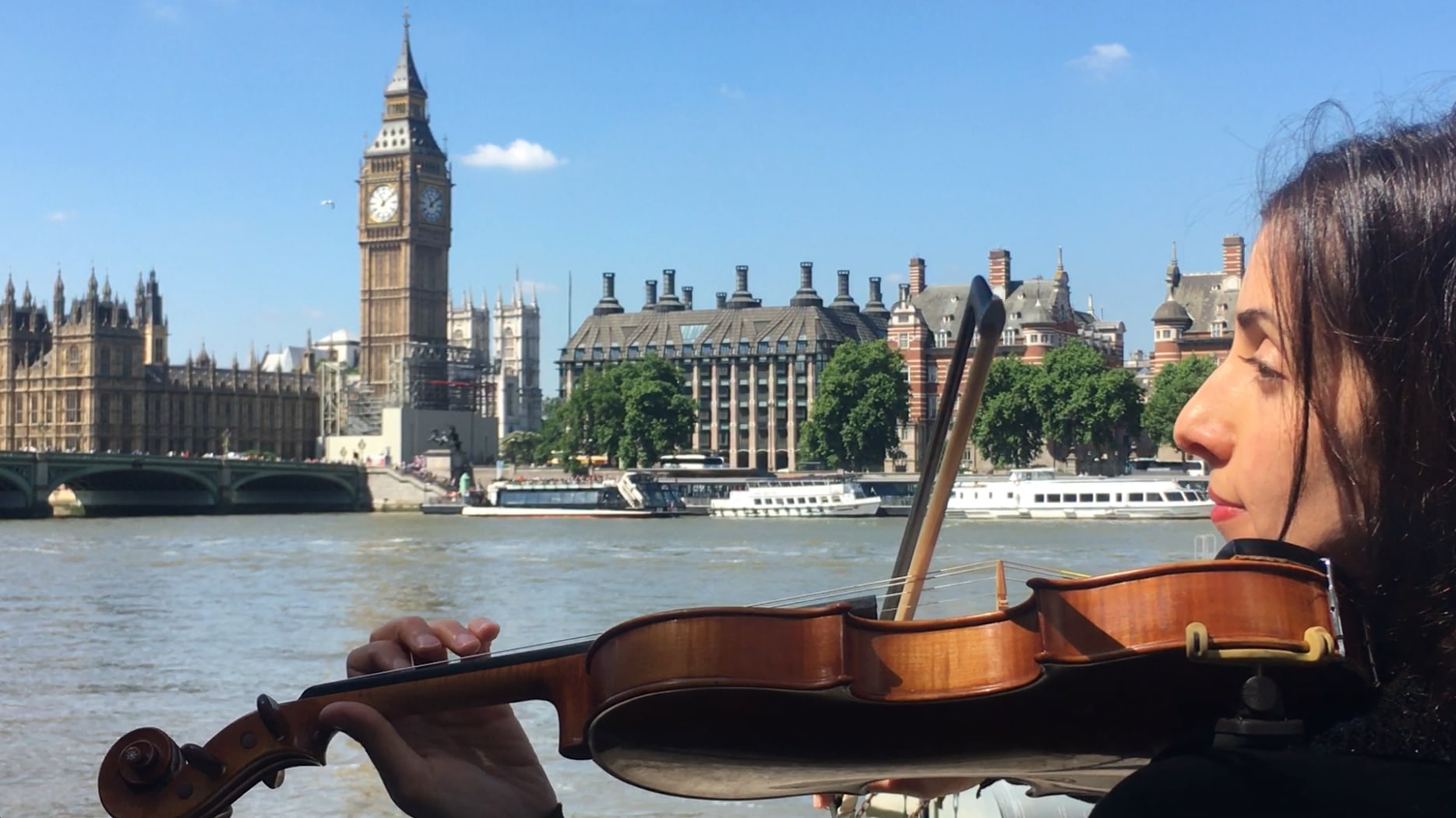 Why Choose Violin?
The violin is often considered one of the most enchanting and versatile instruments.
Its expressive melodies and intricate techniques make it a popular choice for individuals of all ages looking to explore their musical interests.
Learning to play the violin can be a fulfilling way to challenge yourself, enhance your cognitive abilities, and cultivate a lifelong appreciation for music.
It can also be a wonderful social experience, and a great opportunity to meet new friends who share your love of music!
However, the violin is an intricate instrument to learn, so it can be easy to pick up bad habits or make a bad sound if you don't get the right advice from the start.
Therefore, it's important to find a high quality tuition option from the very beginning.
Tailored Tuition for Adults
Fortunately, London offers several options for adults who are interested in learning the violin.
Although many music schools and private tutors in London specialise in teaching children, there are also some teachers and schools who understand the unique needs and requirements of adult learners too.
As an adult learner, your considerations for a choice of tutor can include practical issues such as availability, and flexibility of schedule - this is especially important for adult learners who have a busy work schedule during the week!
But teaching violin to adults is very different from teaching children, so a professional teacher will also understand issues such as:
Muscle flexibility and physical movement considerations - older learners can be highly capable, but may require more specific muscle flexibility exercises than younger learners, in order to develop certain technical skills
Previous musical experience (if any), and how this affects the learning process - often adult learners will have very little memory of music theory, and will not know how to leverage their intuitive musical ability. Some adult learners may have very minimal musical experience.
Cultural differences - often, adults who have travelled to London from another country to study or work, will have learnt some music skills through a non-western system such as Solfeggio (doh-re-me), an Indian musical tradition such as Hindustani or Carnatic violin, or class music lessons at school.
Motivation - adult learners in London will often have a variety of reasons for learning, ranging from the need to relax and rejuvenate after busy working week, to personal development and goal setting, to connecting with new friends and becoming part of a musical community.
**
In all of these different areas, a skilled violin teacher who specialises in adult learning will be able to bridge these gaps quickly and effectively as possible for each individual adult learner.
Group Tuition or Private Lessons?
One of the first decisions you need to make as an adult learner in London, will be whether to seek a private tutor for one-to-one lessons, or a group class or course where you can learn alongside fellow students.
There are advantages to both formats, so it is sensible to consider both options.
In our experience, a blend of group tuition and some supplementary personal tuition is the right balance of the majority of adult learners in London.
Cost-conscious learners on a tight budget can also achieve great results through group tuition alone, especially through intelligent use of quality learning resources.
Group Tuition specifically designed for adults, provides:
camaraderie and encouragement, making the learning process even more enjoyable
a shared curriculum, where you can easily measure your progress and exchange ideas with others about the music you're learning
a supportive and motivating environment
the opportunity to meet new people / friends / collaborative musicians, and be part of a community
Private Lessons offer benefits including:
Customised scheduling
Personalised feedback and more curricular flexibility for advanced learners
Slightly faster progress - IF you manage to find a good teacher working to a high quality curriculum, who you like and 'click' with on a personal level!
Additional considerations:
Private lessons from an experienced, high quality teacher are usually more expensive than group tuition, so this should always be considered if your budget is tight.
Also, music is social. So if you choose primarily to learn through one to one lessons, then it's important also to find a group, ensemble or orchestra appropriate to your experience level, so that you can play with other musicians regularly and build up your rehearsal and performance experience.
If you're unsure about which format is right for you, we recommend joining the Violin Fundamentals class run by our colleagues at London String School.
This one-off class takes place frequently in London and is suitable for first-time beginners, restarters, or for learners who want to revise the first principles of good playing technique.
It's taught by ear, so you don't need to read music in order to participate. A violin can also be provided for the class if you don't already have an instrument of your own.
To learn more, take a look at the London String School website for more information:
It's never too late … get started today!
It's never too late to embark on a musical journey, and learning the violin as an adult in London can be an incredibly rewarding experience.
With a range of options available, from traditional lessons to online resources, you can choose the path that best suits your preferences and lifestyle.
So, pick up that violin, and let the music begin!