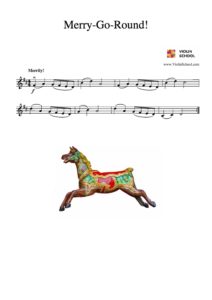 Merry-Go-Round could be the tune for an actual carousel! Like the music that blares out from old-fashioned fairground rides, this melody is a happy, upbeat melody, that repeats around and around.
Imagine the horses bobbing up and down on the Merry-Go-Round itself, as the rising quarter notes (crotchets) and the falling eighth notes (quavers) imitate the up and down motion that each rider enjoys!
Click here to download Merry-Go-Round from the ViolinSchool Library!