A new series of first-hand stories from people learning the violin. Here's the journey of Setareh Mood (Violin Learner, Yoga Student, and Head of ViolinSchool Support)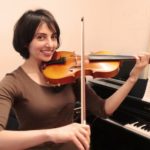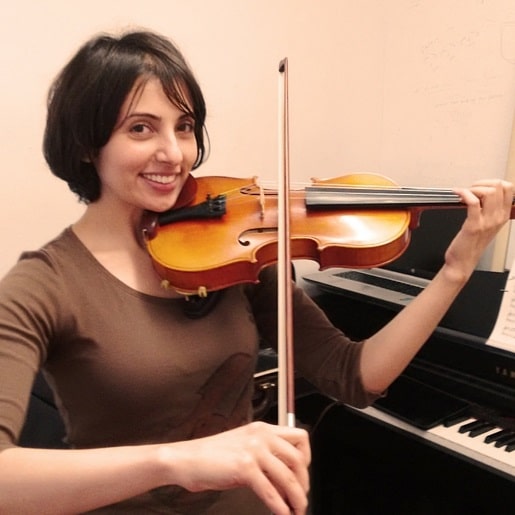 My name is Setareh Mood. Since my childhood I've loved to play instrumental music, I've always found it fascinating. Living in different eastern and western countries, made me very interested in every kind of musical genre. I always wanted to work and study music, but rarely had the possibility of accomplishing that.
At the age of 12 I began learning keyboard and that was the first time I got familiarised with music notes. I played it for about two years, but the life of a student was very busy and I just used keyboard to perform some small school concerts.
When I was 18 I left my country (Iran) and went to Italy to continue my studies of Foreign Languages and Literature. After my degree from Milan's university, I taught Persian language and literature to Italians.
When I was 25 I felt that music playing was lacking so badly in my life. I didn't have any instrument
with me in Italy, so I borrowed a violin from my husband's cousin who was studying violin at that time. I played that violin for 1 year, which was enough time to make me fall in love with this beautiful instrument!
So after one year I bought my own violin. And went to some private lessons during two to three years. But a sense of community and setting goals was lacking in my playing and so I wasn't very disciplined and constant in my violin learning.
When I arrived with my husband in London in October 2014, life was very challenging. I tried to play violin when I could but it wasn't very easy without a guide or a community. Then one day last summer I found there was a violin orchestra for any age and level in London, run by ViolinSchool. The idea of being part of a group with my same passion thrilled me a lot. So I participated in the orchestra and I've got much more than what I was expected. I found a family, and my best English friendships came from this orchestra and ViolinSchool members.
I found that ViolinSchool gives us the hope that we can play the violin beautifully and enjoy it even if we have just begun to learn it.
And the eLearning program makes ViolinSchool special because we have access to the violin learning everywhere we go. And we have a dedicated advisory team who are always glad to help everybody with their questions.
At the moment I am studying Yoga to become an advanced yoga teacher, and my dream is to combine one day the unity of yoga to the harmony of music.
At the beginning of this year I began to be a part of the ViolinSchool team and my dream of working and studying for music became true 🙂
As Rumi said: Set your life on fire. Seek those who fan your flames!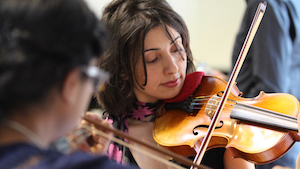 ---
Are you learning the violin and would like to share your story? Email us at [email protected] - you could be featured here next!