Here's the next in our series of Intonation Exercises from the ViolinSchool Library - one per week, for you to improve the accuracy of your left hand placement!
Copycat: Play an interval on one string, and then play the same notes in a different place on the violin, by moving to a different string and a different position...
But be careful, Copycat... you need to aim for exactly the same pitch, wherever you climb!
Copycat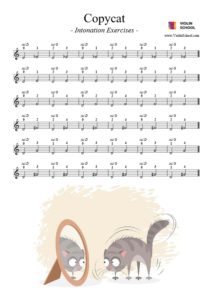 Click here to download it from the ViolinSchool Library!
(login required)