Here's the next in our series of Intonation Exercises from the ViolinSchool Library - one per week, for you to improve the accuracy of your left hand placement!
Leap of Faith: Shifting big distances like these on a single string really does require a leap of faith!
But that faith will come from repeating the movement slowly lots of times, and being aware of your arm movement (especially the elbow movement) during the shift.
The smoother and more secure the arm and hand, the easier it is to drop your finger into exactly the right place.
Keep the frame of your hand secure but relaxed as you move!
Leap of Faith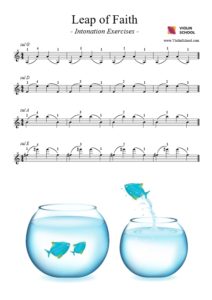 Click here to download it from the ViolinSchool Library!
(login required)