Here at ViolinSchool, we've now begun a massive program of recording and filming, which will continue throughout Summer 2020 and beyond.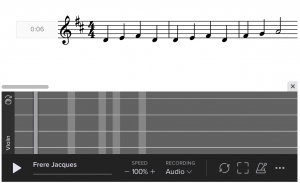 As well as playalong and tutorial videos, we'll also be introducing new audio backing tracks (or 'accompaniments') alongside all new pieces of music that appear in our Courses and our Library.
Each backing track can be played in the interactive notation player on the page, so that you can follow along with the notation in real time.
Or if you prefer, you can download each backing track as an MP3, so you can load it into your favourite digital music player.
For teachers, we recommend using the backing tracks in the classroom through a bluetooth speaker, so that your whole class can play along!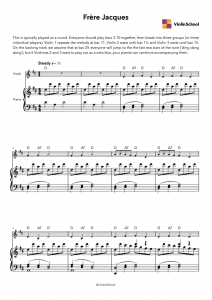 They're also great for online teaching on Zoom, Skype or Facetime ... we often use the accompaniment backing tracks when playing along together in one of ViolinSchool's weekly Zoom sessions!
Frère Jacques
One of the first to get the ViolinSchool Backing Track treatment, is everyone's favourite oversleeping Friar! Frère Jacques is a lovely French 'round' or 'canon', where lots of different violinists can play together at the same time.
Try playing along with the piano part ... you could even try recording the violin part yourself, then play along with the recording - but start playing at a different time, to create the 'round' effect!
Click here to download the backing track, chord symbols, and piano part >>