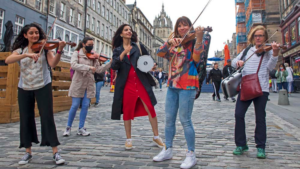 The London Violin Ensemble's Autumn Sessions begin on Saturday 24th September 2022.
Join us for the next ten weeks, and experience the joy of making music together!
Rehearsals take place each Saturday between 2pm and 4pm at St Martin-in-the-Fields in Trafalgar Square, culminating in a concert on 3rd December 2022.
The sessions will be led by the violinists David Worswick and Simon Hewitt Jones, and the pianist Neil Georgeson.
We've put together a fantastic programme of original compositions and special arrangements, including:
Allegretto from Beethoven's 7th Symphony
Intermezzo from Kodály's Háry János Suite
Hungarian March by Berlioz
Concerto for 4 violins by Telemann
There'll also be some rip-roaring Scandinavian folk tunes, a rollicking Tango, Charleston and Foxtrot and a brand new piece by David called Ronde of the Knights.
If you would like to take part in the London Violin Ensemble, or if you have any questions, please get in touch today at [email protected].
Or if you've already been in contact with us and would like to register, click the button below: