Click the image to watch our Christmas Message!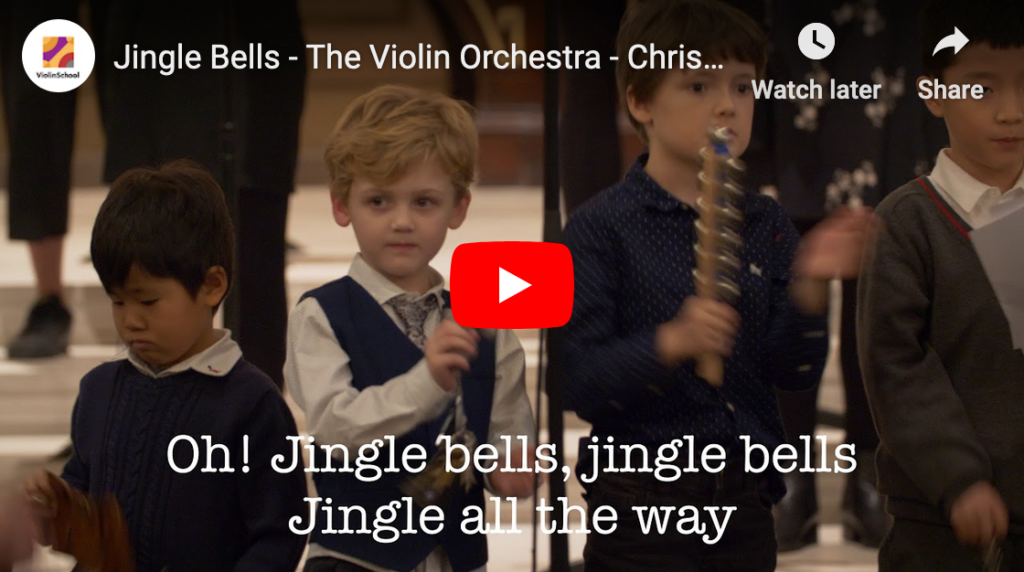 Wherever you are and whatever you're doing this Holiday season, we wish you peace and happiness!
---
Coming up in 2020...




In 2020, ViolinSchool is launching our most ambitious ever program of violin lessons, courses and learning resources - including new books, teacher training programs, and digital learning tools for beginner violinists.
We send you different resources depending on your country, and whether you are:
an Adult Learner
a Parent
a Violin Teacher
And there are different tracks for:
Beginner/Intermediate levels
Advanced levels
Violin Teachers & Professionals
Make sure you're on the right track ...
Click here to join our mailing list or to update your details!
Christmas is a-coming! Let's kick off the season with an old favourite, Jingle Bells! Click the image below to go to the free download page, and grab your copy today. O what fuuun it is to play our Jing-le Bells todaaaayyy.... !!

As Christmas approaches, it is always a nice chance to learn some festive music to get into the seasonal spirit.
There is loads of Christmas music available, from carols to favourite pop songs, but before we delve into the Christmas goodies, here's some improvised fiddle fun from Peter Lee Johnson to get you in the mood…
If you want to try something less complicated, there is a wealth of music for beginner and intermediate level violinists. Perhaps the best book for adults and children is by Kathy and David Blackwell, authors of the Fiddle Time series. They have put together a great selection in Fiddle Time Christmas (Oxford University Press). It's available on Amazon, where it has five star customer reviews.
[MM_Member_Decision isMember='false']
You will need to register for ViolinSchool membership in order to read the rest of this article!
Click here to see all the benefits of becoming a member, and to join today
![/MM_Member_Decision][MM_Member_Decision membershipId='1']
You currently have a free account!
To read the rest of this article, you will need to register for ViolinSchool membership.
Click here to see all the benefits of becoming a member, and to join today
![/MM_Member_Decision][MM_Member_Decision membershipId='2|3']
Their book contains 32 Christmas tunes, some well known favourites and some lesser known songs, many of which have the words to sing along to; there's a selection of solo and duet pieces and easy chord symbols for piano or guitar accompaniment. The arrangements are nice and easy with simple finger patterns and the book even comes with a CD to listen or play along to.
Let's take a quick look through the book.
The first song is the Christmas carol Hark the Herald Angels Sing, which is a lovely tune by Mendelssohn. This version is in G major and has simple rhythms. Look out for the C naturals on the A string, which need a low second finger, and try singing the words to help with the dotted rhythms. The dynamics increase as the song draws to a triumphant close.
The first duet piece is the traditional English melody The Holly and the Ivy. This song has three beats in a bar. Most of the rhythms move together between the top and bottom parts, but look out for places where one player has two quavers and the other has a crotchet. Much of the harmony is quite close so listen to make sure your tuning works together.
The same is true of Silent Night, a bit further on in the book. Close harmony needs good intonation so that the song sounds really beautiful. Notice the dynamics in Silent Night. There are 'hairpins;' crescendos and diminuendos marked to shape each phrase in the same way that you would sing it. Listen to the way the phrases are sung by these choristers.
The next duet is I Saw Three Ships. This is in a compound time signature, 6/8, which sounds like a jig or sea shanty. This recording gives a strong sense of the dance-like rhythm from an unlikely source.
The book continues with the carol Oh Little Town of Bethlehem, and the Trinidadian carol Christmas Calypso. Again this is a more complicated rhythm. Sing the words and notice where the strong beats fall. The bow distribution is slightly tricky in this song as there are notes of different lengths mixed up in each phrase. Try using slightly less bow for the quavers and more for the crotchets to help divide up the bow and to give the swinging calypso rhythm. Listen to this Christmas Calypso to hear the gentle sway and emphasis of the beat.

The next few songs are Once In Royal David's City, again in G major, so look out for those C naturals, then Go Tell it on the Mountain and O Christmas Tree. O Christmas Tree is another duet which will be great fun to play with a friend.  Playing Christmas songs together is great fun for adults and children. Although the children in this video are playing in D major, their performance gives a great idea of the rhythm of the song.
We Wish You a Merry Christmas, While Shepherds Watched and We Three Kings are next. Many of these songs will be familiar to even young children who will have heard them or sung them at school. It's always nice to start with the songs you know. Listen to them all on the CD and you'll discover plenty of new songs too.
Next come plenty more favourite carols including Away in a Manger and God Rest Ye Merry Gentlemen, before the carols are interrupted by a simple version of the famous Skaters' Waltz by Waldteufel. Listen to the full orchestral version and imagine the skaters gliding over the ice! Waldteufel's name is pretty fun too. It's German for Forest Devil.
The next tune is from Tchaikovsky's Nutcracker ballet, which is a huge Christmas favourite with a surreal surfeit of dancing mice and sweets. Watch these dancers performing Dance of the Reed Pipes. Notice how the shape of the dance follows the shape of the music.
The book ends with some more famous melodies, including Jingle Bells, and two Hogmanay tunes. Hogmanay is Scots for the last day of the year, and the Hogmanay Reel is a Scottish dance tune. Auld Lang Syne is a song traditionally sung on New Year's Eve and also at the very end of any decent Scottish party when everyone is feeling sentimental about having to go home.
Fiddle Time Christmas is a really great place to start learning Christmas music, but there are also plenty of Christmas songs available as free downloads. There is a nice selection of carols at www.violinonline.com. They all come with sheet music, scores and sound files. Some are perfect for beginners, and others more suitable for the intermediate player. It Came Upon a Midnight Clear has some more advanced accidentals and the Messiah Medley is quite challenging but great if you like Handel's music.
Fiddlerman.com has a downloadable version of Chestnuts Roasting on an Open Fire, suitable for intermediate players. There's no sound file and it's not in the original key because vocal scores are often in very difficult keys, but if you love the song, here it is.
Christmas only comes once a year, so dive into the seasonal repertoire, have fun, and happy Christmas!
---
[/MM_Member_Decision]