Bowed string instruments have been played all over the world for many thousands of years.
Medieval instruments including the Chinese erhu, the Finnish bowed lyre and the Indian sarangi all had the same basic mechanics as the modern violin, using the principle of a continually resonating string amplified by a hollow body.
In 7th century Greece, there was an instrument called the kithara, a seven stringed lyre, the features of which were very different from the violin.
Early Origins
The development of a musical instrument is rather like the process of evolution. It is gradual and complex, with many of its stages indistinct or undocumented. The history of the violin can be traced back more or less to the 9th century.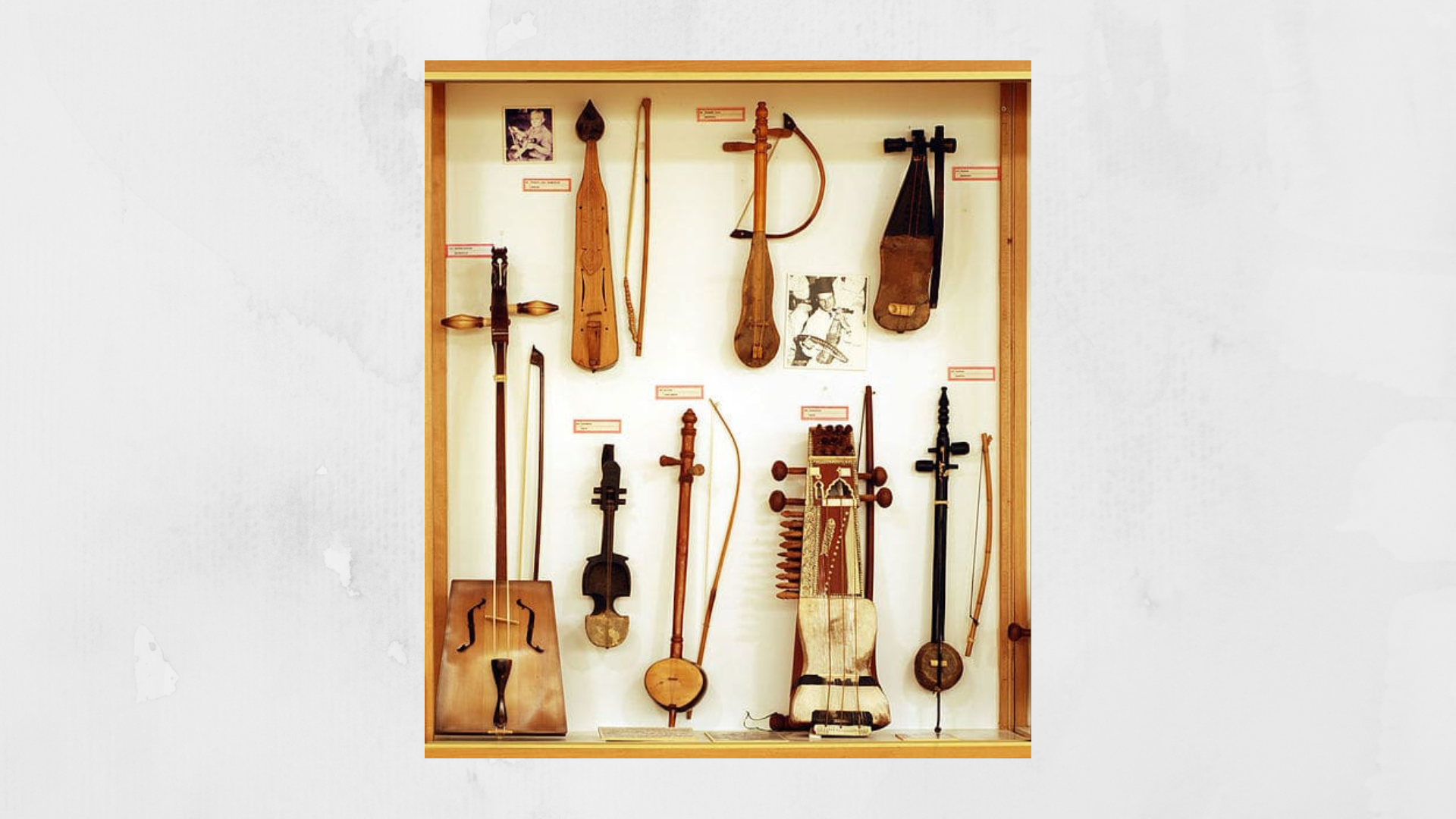 One plausible ancestor for the violin is the rabãb, an ancient Persian fiddle which was common in Islamic empires. The rabãb had two strings made of silk which were attached to an endpin and tuning pegs.
These strings were tuned in fifths. The instrument was fretless, its body made from a pear shaped gourd and a long neck.
It was introduced to Western Europe in the 11th and 12th centuries, and the influence of both the rabãb and lyre, along with a constant search for perfection and refinement and the demands of increasingly complex repertoire, led to the development of various European bowed instruments.
Ancestors of the Violin
Forerunners of the violin include the rebec, an instrument based on the rabãb, which appeared in Spain, most likely as a result of the Crusades.
The rebec had three strings and a wooden body and was played by resting it on the shoulder.
There were also Polish fiddles, the Bulgarian gadulka and Russian instruments called gudok and smyk, which are portrayed in frescos from the 11th century.
The 13th century French vielle was very different from the rebec. It had five strings and a larger body, which was closer in shape and size to the modern violin, with ribs shaped to allow for easier bowing.
Confusingly, the name vielle later came to refer to a different instrument, the vielle á rue, which we know as the hurdy-gurdy.
Emergence and Early Variants
There is no reference to the word violin until the reign of Henry VIII, but something very much like the violin existed, and its name was fydyl.
This instrument was played with a fydylstyck, proof that it was bowed and not plucked.
It had only three strings and a fretless fingerboard, and it was used for dancing, in banquets and social events; occasions which required an instrument with a strong sound, held shoulder height for projection.
In 15th century Italy, two distinct kinds of bowed instruments emerged. One was fairly square in shape and held in the arms and was called a lira da braccio or viola da braccio, meaning viol of the arm.
This instrument had three strings and was the same general size and shape as the vielle, but the C-shaped sound holes in the body had been replaced by the now familiar F-holes.
The other bowed instrument was a viola da gamba, meaning viol for the leg.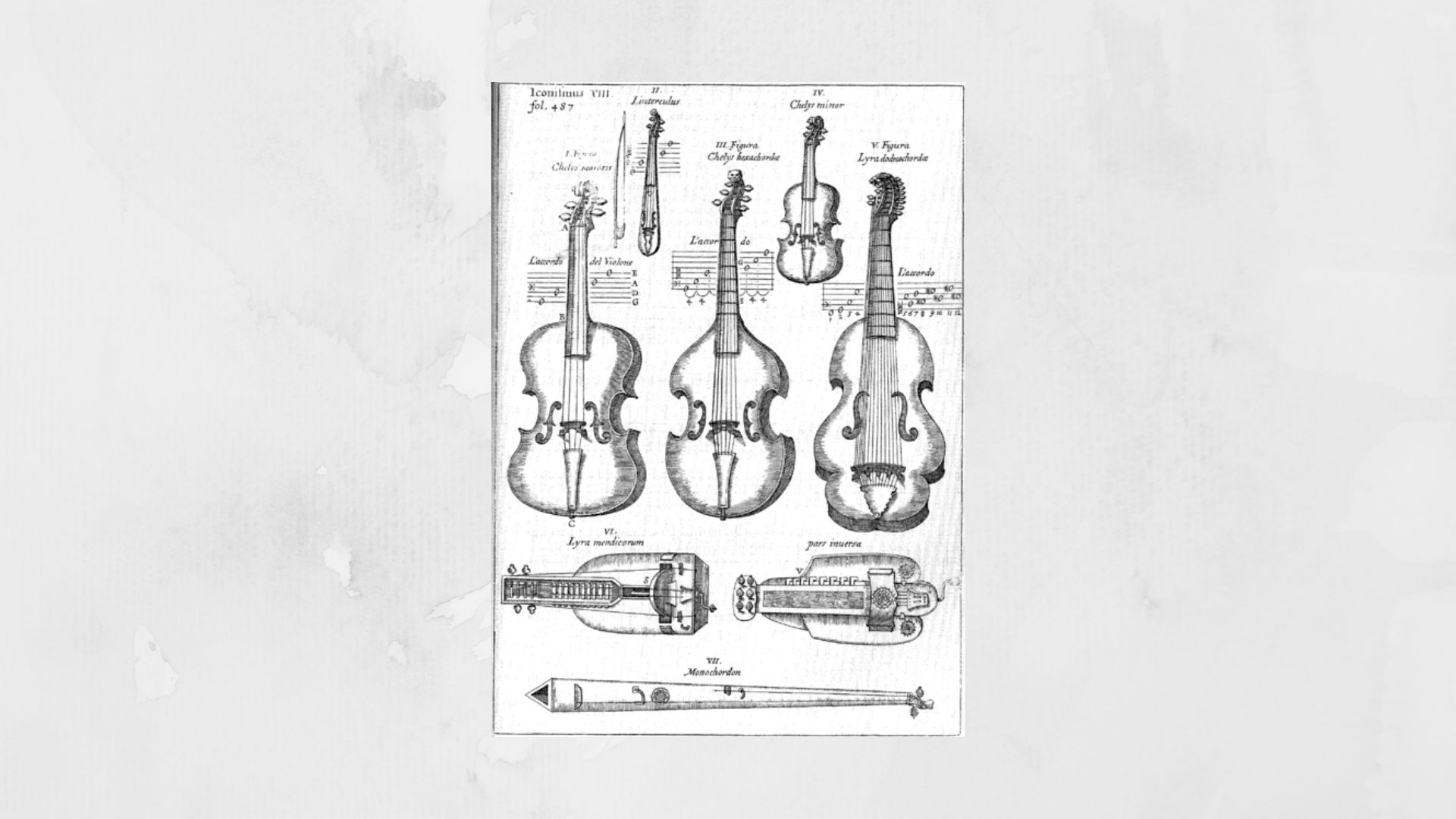 The Rise of the Modern Violin
These gambas were important instruments during the Renaissance period, but were gradually replaced by the louder instruments of the less aristocratic lira da braccio family as the modern violin developed.
The violin first appeared in the Brescia area of Northern Italy in the early sixteenth century.
From around 1485, Brescia was home to a school of highly prized string players and famous for makers of all the string instruments of the Renaissance; the viola da gamba, violone, lyra, lyrone, violetta and viola da brazzo.
The word violin appears in Brescian documents for the first time in 1530, and whilst no instruments from the first decades of the fifteenth century survive, violins are shown in several paintings from the period.
Violins vs Viols
The first clear description of the violin, depicting its fretless appearance and tuning, was in the 1556 Epitome Musicale by Jambe de Fer.
By this time the violin had begun to spread throughout Europe. It was mainly used to perform dance music but was introduced into the upper classes as an ensemble instrument.
Where the viol, which was preferred in aristocratic circles, had been perfect for contrapuntal music and for accompanying the voice, the violin was normally played by professional musicians, servants and illiterate folk musicians.
"The violin is very different from the viol. First, it has only four strings, which are tuned at a fifth from one to the other, and each of the said strings has four pitches in such wise that on four strings it has just as many pitches as the viol has on five.
It is smaller and flatter in form and very much harsher in sound, and it has no frets because the fingers almost touch each other from tone to tone in all the parts. Why do you call the former Viols, the latter Violins?
We call viols those upon which gentlemen, merchants, and other persons of culture pass their time.The Italians call them "viole da gambe," because they hold them at the bottom, some between the legs, others upon some seat or stool; others [support them] right on the knees of the said Italians, [but] the French make very little use of this method.
The other kind [of instrument] is called "violin", and it is this that is commonly used for dance music [dancerie], and for good reason: for it is easier to tune, because the fifth is sweeter to the ear than the fourth is" It is, also easier to carry, which is a very necessary thing, especially in accompanying some wedding or mummery.
The Italian calls it "violon da braccia" or "violone" because it is held upon the arms, some with a scarf, cord, or other thing. I did not put the said violin in a diagram, for you can consider it upon [the one for] the viol, joined [to the fact] that few persons are found who make use of it other than those who, by their labour on it, make their living."
- Jambe de Fer from the Journal of the Viola Da Gamba Society of America, November 1967.
The Evolution of the Modern Violin
The viola and cello developed alongside the violin in early 16th century Italy. This new family of stringed instruments gradually took the place of the gambas and viols as new ideas of sound emerged.
It is commonly accepted that the first modern violin was built by Andrea Amati, one of the famous luthiers (lute makers) of Cremona, in the first half of the 16th century.
The first four-stringed violin by Amati was dated 1555 and the oldest surviving of his instruments is from around 1560, but between 1542 and 1546, Amati also made several three-stringed violins.
Amati built his violins using a mould, which meant the measurements became much more precise. He developed a more vaulted shape for the body of the instrument rather than the flat soundboards of the early stringed instruments.
It is speculated that Amati may have studied with Gesparo da Salo in Brescia, but some records show that he was well established in Cremona long before he began making violins, and was in fact older than da Salo.
The Brescian school of luthiers had existed for 50 years before violin making began in Cremona, but the Cremona school gained prominence after 1630, when the bubonic plague swept Northern Italy and eliminated much of the Brescian competition.
Italy had managed to avoid the thirty-year war and development of the instrument continued in a golden age of culture.
Andrea Amati mastered many apprentices, and produced a dynasty of violinmakers, including the Guarneris, Bergonzis, and Rugeris.
His own sons followed him into the trade, and his grandson, Nicoló Amati, the most famous Amati, trained Antonio Stradivarius.
Stradivarius made over 100 instruments, of which roughly two thirds survive. His violins are some of the most imitated by modern makers today.
18th and 19th Century Transformations
The violin, originally an instrument of the lower classes, continued to gain popularity, becoming integral in the orchestra during the seventeenth century as composers such as Monteverdi began writing for the new string family.
The instrument continued to develop between the sixteenth and nineteenth centuries, and the surviving historic violins have all undergone alterations.
The violin bow changed dramatically in around 1786, when Françoise Xavier Tourte invented the modern violin bow by changing the bend to arch backwards and standardising the length and weight.
The violin fingerboard was lengthened in the 19th century, to enable the violinist to be able to play the highest notes. The fingerboard was also tilted to allow more volume.
The neck of the modern violin was lengthened by one centimetre to accommodate the raising of pitch in the 19th century and the bass bar was made heavier to allow for greater string tension.
Where classical luthiers would fix the neck to the instrument by nailing and gluing it to the upper block of the body before attaching the soundboard, the neck of the modern violin is mortised to the body once it is completely assembled.
By the 18th and 19th century the violin had become extremely popular. By the late 18th century, makers had begun to use varnished developed to dry more quickly.
This had an impact on the quality of instruments produced. The quality of the wood used in violin making has been affected by the lack of purity of modern water as nearly all substances dissolved in water permanently penetrate wood.
By the 19th century violins were being mass-produced all over Europe. Millions were made in France, Saxony and the Mittenwald, in what is now Germany, Austria, Italy and Bohemia, now part of the Czech Republic.
It is partly for this reason that the violins of the early Italian masters are so prized, so well regarded and so expensive. A Stradivarius violin will now sell for many millions, the most expensive so far on record sold for $16million in 2011.
Modern Violins
More recently, new violins were invented for modern use. The Romanian Stroh violin used amplification like that of a gramophone to boost the volume.
In the late 19th and early 20th centuries, before electronic amplification became common, these violins with trumpet-like bells were used in the recording studio where a violin with a directional horn suited the demands of early recording technology better than a traditional acoustic instrument.
Electric and electro-acoustic violins have also been developed. An electro-acoustic violin may be played with or without amplification, but a solid bodied electric violin makes little or no sound without electronic sound reinforcement.
Electric violins can have as many as seven strings and can be used with equalisers and even sound effects pedals, a far cry from the exacting acoustic knowledge which created the great violins of the Italian Renaissance.
When we listen to music, we enter an expressive world full of soaring melodies and flowing emotions. But as with any language, there's an essential technical foundation that underpins the relationship between the notes and the human soul.
Music theory takes us into the detail of sound, time and pitch, and all the other aspects of music. It gives us clarity about how and why music works, and gives us a language of written symbols that we can use to communicate effectively and quickly with other musicians.
Understanding Music on a Deeper Level
Imagine listening to your favorite song and being able to decipher the hidden layers of melodies and harmonies. This is where the significance of music theory becomes paramount.
Music theory is not just a set of rules; it's a key that unlocks a deeper level of understanding in every chord progression, every rhythm, and every musical phrase.
It allows us to venture beyond just superficial listening, and immerse ourselves deeply in the music we hear.
Enhancing Your Musical Performance
Just as learning to read and write empowers us to communicate effectively, understanding music theory empowers us to communicate better through our instruments.
Think of music theory as an alphabet for musicians. It's an array of symbols and notations that form a universal language. The better you know the alphabet, the more flexibility and freedom you will have when using it, and the more expressive you will become as a musician.
A solid knowledge of music theory elevates your performance, so that it becomes more than just playing notes; a deep understanding of how music works can transform your playing into a heartfelt conversation with the audience.
The Language of Musicians: Communication and Expression
Have you ever witnessed a flawless group performance that seemed almost telepathic? That remarkable synergy between musicians develops by conversing in the language of music theory.
Although the exact use of musical symbols and terminologies do vary between cultures and languages, the sounds and musical elements they represent are universal.
This is why music is often described as a 'universal langage' - it bridges genres and backgrounds, and eliminates barriers to communication, even where spoken language cannot.
If two highly experienced musicians from different parts of the world were to meet in passing, they could communicate fluently together straight away through music, because of their shared understanding of how to convey emotion and artistic expression through music.
For some musicians, this is a very intuitive skill, built up through aural traditions passed on over a long period of time. But it's quicker and more effective to understand music theory analytically as well as intuitively, which is why most professional musicians read music fluently.
Professional Pathways and Opportunities
For those who choose to follow a professional musical path, a solid foundation in music theory is essential for navigating unknown musical territories.
It opens doors to diverse career opportunities - teaching, composing, arranging, and roles within the music industry.
A clear knowledge of music theory gives musicians better and easier communication when working with new people, or when playing genres of music where they do not have expert knowledge of the style.
Written Music Notation
Music composers who understand how music theory works, are able to convey their intentions precisely through written notation. This allows their ideas to be accurately recreated, even when they are not physically present.
'Notating' the music in written form is a tradition that is now hundreds of years old, and which allows us to accurately perform music from hundreds of years ago - as far back as the Renaissance and Medieval periods.
Music theory gives us the ability to represent emotions and artistic expressions in a structured and deliberate way. It's a way of capturing and communicating musical ideas which are otherwise impossible to put into words!
Cultivating Creative Expression
Music theory is a canvas, not a cage! It shouldn't feel like something that inhibits your creativity - to the contrary, it should provide a structured framework that nurtures our creative impulses.
Once we know how tools such as scales, intervals, and chord progressions work, we become far more able to create and communicate our own musical ideas.
Mastering the technical skills of music theory gives us the fluency to weave our own musical narratives, and create, communicate or perform music that is truly representative of our individual musical voice.
Analysing and Appreciating Music
Unlocking the door to music theory opens a world of analytical listening. It's like having a musical magnifying glass that reveals the intricate details woven into each composition.
Through music theory, we learn to dissect the fundamental components of music such as chords, melodies, and rhythms, and uncover the nuances that elevate a piece from mere sound to a profound work of art.
Understanding Historical Context
Every piece of music is influenced by the era in which it is created. Music theory provides the key to deciphering how trends and conventions of a particular time are influential in the choices of a music composer.
As we understand the evolution of musical techniques, styles, and trends, we can see each piece of music in historical context. This helps us to create better informed interpretations of older music. It also gives a profound appreciation of human creativity over the centuries!
Cognitive Benefits Beyond Music
In addition to the practical benefits of applying music theory in day to day music making, it also benefits our cognitive faculties, by stimulating problem-solving, pattern recognition, and memory skills.
These benefits extend beyond the realm of music, enriching our overall cognitive abilities and enhancing our mental acumen.
Personal Enjoyment and Cultural Awareness
Deeper understanding of music theory can heighten our personal enjoyment of music. We can often connect with music on a visceral level, once we are able to extract meaning from the very fabric of sound.
Music theory also gives us technical insight into how musical traditions differ across cultures. This reveals the unique musical expressions that define human societies across the globe.
Teaching and Sharing Knowledge
Imagine being the guide who ignites the spark of musical passion in others. Music theory equips us with the tools to teach and share knowledge effectively.
Whether you're teaching formally as an educator, or just passing on your wisdom and knowledge to less experienced musicians as you work and play together, you can use the language of music to nurture growth in others, and help them discover their own musical voice and identity.
Theory Explains How Music Works
Music is one of the most extraordinary and wonderful experiences in life, and it can transcend cultural differences to bring people together in the most beautiful way. But to achieve this can be complicated, and can seem mystical and other-worldly.
Music Theory helps us to achieve a deeper level of technical understanding about how this unique 'language' works, which in turn unlocks the tools we need to be able to communicate, collaborate and perform more effectively as musicians.
Embrace music theory to unlock whole new worlds of possibility in your life as a musician!
Violin exams are a really useful way to track the progression of your learning! They provide a structured path for progress, clear goals to work towards, a solid way of assessing your skills. You'll also get a real a sense of achievement when you finally complete the examination itself!
While exams can be nerve-wracking, proper preparation can go a long way in easing the stress and ensuring success. Let's take a look at the essential steps for preparing for a violin exam... 🎻 🎓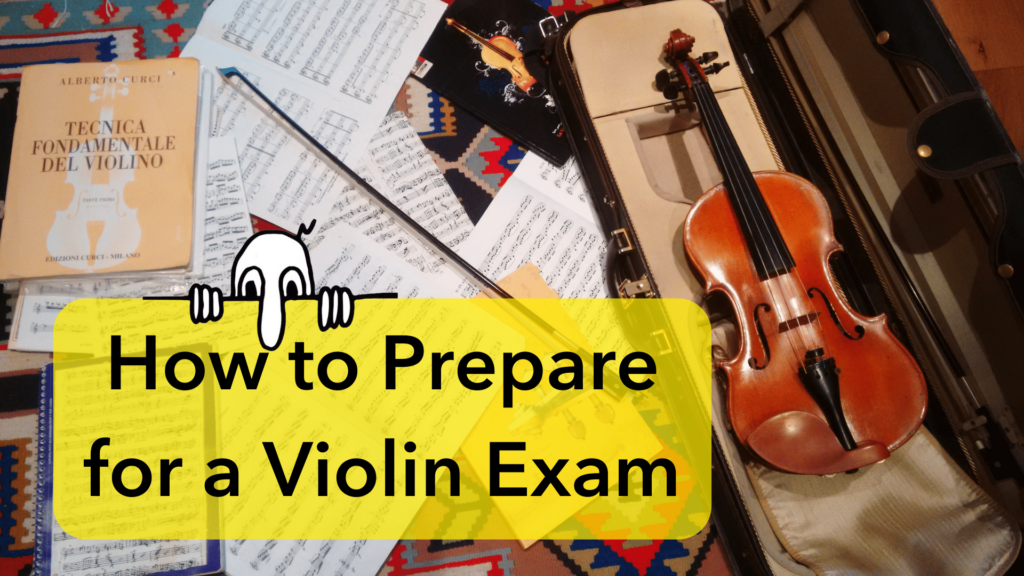 Where To Begin
Start Your Preparation Early!
Seem obvious, doesn't it? But you'd be amazed at how many people enter themselves for an exam first, and then don't learn all the music until close to the date of the exam itself.
'Cramming' information might work for some topics, but not for playing the violin! You need time for the music and the technical skills to 'sink in' to your intuition, so that in the exam itself you can play fluently and confidently, without needing to stop and think about how you're doing it.
The amount of time you'll need to prepare depends on the level of the exam, the complexity of the syllabus, and your existing skills. The earlier you begin, the more time you'll have for practice, and for reviewing and refining your skills. This will all help to avoid last-minute stress and anxiety!
Understanding The Exam Syllabus and Requirements
Before you start, take the time to properly understand the exam requirement. Each exam board will publish their information in a booklet called a 'syllabus', which is usually available in both print and digital format.
It's important to get this right, because if you make a mistake now, you could end up invalidating your exam result by preparing the wrong scales, aural tests ... or even the wrong piece (it can happen!).
Make sure to take time to research your exam board's website, and become familiar with the exam structure, grading criteria, and other relevant information ... before you start practising the exam materials!
Choosing an Examination Board
There are several different music examination boards, and depending on your location, you may have several options to choose from.
If you're working with a teacher or personal tutor, they may have a preferred system they'd like you to use. If you're learning on your own, you'll have to make this decision yourself.
Here are a few of the main music examination boards that provide violin exams:
Choosing the Right Pieces
You need to get this right! When choosing pieces of music that you want to learn for your exam, it's obviously essential to select something that's right for your skill level and for the requirements of the exam. But it's also important that you actually like the music and enjoy playing it ... otherwise you won't be motivated to practise!
A good strategy is to select pieces of music that challenge your existing skills a little bit, but aren't so excessively difficult that you end up struggling to learn new skills in time for your exam.
This way, you can make sure that all technical challenges are dealt with early in the learning process, leaving you plenty of time to focus on performance practice before the exam itself.
This is an area where good advice from your teacher or school can be invaluable. If you're a member of ViolinSchool, you can consult with our Learning Advisors and get a second opinion.
Not yet a member of ViolinSchool? Whether you're working on your own or with a teacher, ViolinSchool's resources can help you achieve better results in less time. Find out more about our Membership and Enrolment options or join ViolinSchool today!
Planning for Success
What Result Do You Want?
If you define the outcome you want, then you're much more likely to achieve it ... and that's as true for violin exams as it is for anything else! Setting a clear goal will help you to focus your efforts, monitor your progress, and stay motivated.
Think about what result you want to achieve. Do you care only about passing the exam, or are you wanting to maximise your potential, pass with Distinction, and achieve the highest mark you can? This decision will affect how you approach your violin practice in the lead up to the exam.
Traditional goal-setting techniques can be very useful. A good example would be the use of 'SMART' goals (specific, measurable, achievable, relevant, and time-bound). When you have clarity about what you want to achieve and when, then it's much easier to adapt your practice plans accordingly.

Creating a Practice Plan to Achieve Your Goals
Once your desired outcome is clear, then you can create a practice plan to help you achieve the results you want. This will include your practice schedule, your practice activities, and a clear benchmarks or milestones for measuring whether you are on track.
If you are enrolled at ViolinSchool, we'll do this with you in the form of a Learning Review, followed by a practice plan. If you're a member of ViolinSchool but you're working with a private tutor, then feel free to download and use the Practice Plan and Practice Journal tools to help you keep on track.
You might also like to consider keeping a journal of your violin practice. This is a great way of reflecting on what you have achieved - especially before sleeping, so that your subconscious mind can continue working on the music when you are asleep!
Building Your Skills
How to Practice your Exam Pieces
As with any piece of music, your first priority should be to make sure that the musical and technical essentials are in place. A good principle is to ask yourself:
Is everything in time?
Is everything in tune?
Is my sound (tone quality) good?
To get the best possible results in your exam, you need to be able to answer 'yes' to all three of these questions! If you can't, then analyse your technique to find out what's not working properly - seeking proper advice from an experienced teacher (or us!) if you need.
Once you know that you are achieving technical accuracy with your playing, then you can focus increasingly on musical factors, such as the dynamics, character, shape and expression of the music.
How to Practice Scales and Arpeggios
Scales and arpeggios are obligatory in most violin exams, because they are so helpful for developing finger dexterity and intonation. Ideally you should be aiming for a reasonable level of speed, but never compromising your accuracy - it's better to play a scale slightly too slow but beautifully in tune, than at a faster speed with imperfect intonation!
Your first priority should be to identify any new scales or arpeggios which you'll need to learn for your exam. Put aside time early in your exam preparation to learn any new scales, so that you can start familiarising yourself with the finger patterns and building up the muscle memories.
But you should also develop a routine for all of your scales, including the ones you already know! If you don't have time to practise every scale every day, make sure that you regularly rotate which scales you include in your practice.
This will avoid any unpleasant surprises a few days or weeks out from the exam, when you might suddenly 'discover' a scale or two that you've forgotten about...!
Also, remember that arpeggio patterns are just as important as scales! A common mistake is for people to focus so intently on scale practice, that they forget to practise the arpeggio patterns. Don't let that happen to you!
Treat scales and arpeggios equally, and you'll find that before long, your left hand will start becoming much more fluent in the keys that you are learning ... which will benefit the whole of your playing, for the examination and beyond!
Developing Aural and Musicianship Skills
Aural and musicianship skills are formally tested in most violin exams, but they're essential for good violin playing and music making anyway. The ideal situation would be that your aural and musicianship skills are so instinctive for your technical level, that you can respond immediately to any rhythm or pitch tests, almost without thinking about it.
Unless you've played another musical instrument to a high level, or you do a lot of singing, you'll almost certainly need to include aural and musicianship skills in your practice routine. This can be great fun!
Leave time to sing and read sheet music every day ... and this doesn't need to happen only at the violin! Whether it's singing during your morning shower, or practising rhythm patterns whilst you're going for a walk, it's good to get creative about how you integrate music into your daily routine!
Developing Sight-Reading Skills
Exactly the same is true for sight-reading as for aural and musicianship skills. Most exams will formally test your ability to sight-read, but being able to read music fluently and accurately is an essential skill for musicians anyway ... so build it into your daily practice!
It's important to use a wide variety of music when practising sight-reading. This way, you'll build up the ability to sight-read in lots of different keys, time signatures, and styles.
Some exam boards publish 'specimen' (sample) sight-reading books for you to practise with, and there are also good book sequences such as the Right@Sight series (by ViolinSchool's Caroline Lumsden!), and Improve Your Sight-Reading! by Paul Harris.
Start with simple pieces, then gradually increase the difficulty level. Use a metronome at first, if you need help staying in time.
Most importantly, don't stop! When sight-reading, you must not stop and correct mistakes like you would do when practising. The fundamental skill of sight-reading is the art of keeping going in time ... even if you play some wrong ones!
Listening to Recordings and Studying Repertoire
We learn better when we can model someone else doing the same task. So make a point of listening to recordings of the music you'll be playing in your exam! By listening to professional recordings of the pieces you are studying, you'll gain ideas for how to interpret and phrase the music.
This will help you to develop a more nuanced and expressive performance, which will be more enjoyable to listen to (including for your examiner!).
Don't limit your listening just to the pieces you are learning. Try listening to different pieces of music by the same composers of the music you're playing. Or the same styles of music, but by different composers.
This will help you to become more familiar with different styles and periods of music, as well as the historical and cultural context of the pieces you are studying. The more you understand about the music and how to interpret it, the easier it will be for you to give an engaging and well-informed performance!
Performance Practice
Don't forget to practice performing! Performance is a learnable skill, just like everything else, and you need to understand how the change in your physiology in a performance situation will affect your technique ... particularly for a violin exam!
It won't feel natural to perform the violin just to one person (your examiner) in a room - it's a very artificial environment. Add to that the pressure of knowing that your single audience member (the examiner!) is there for one single purpose - to judge and assess your violin playing! - and you can count on the fact that your performance in the exam itself will feel significantly different to playing alone in a practice room (or even to a violin teacher).
Therefore, it's essential to leave time in your practise for 'performing' your exam materials, to see what changes happen to your violin playing in a high-pressure situation.
More Practice Resources
Feedback and Guidance
You don't know what you don't know! And that alone is a good reason why feedback and guidance from a qualified violin teacher or coach is usually essential for a successful exam performance.
Even if you're an experienced learner or musician, you will benefit from advice that gives an alternative perspective on how you're doing what you're doing. And you'll definitely progress quicker with the help of a good teacher, than if you are learning only by yourself.
Good feedback will help you to identify and address areas of weakness effectively. Tailored guidance and support can be extremely helpful for everything from goal-setting to developing an effective practice routine.
At ViolinSchool, our enrolment option includes a range of live classes and learning support, which provides guidance that's invaluable if you're preparing for a violin exam.
Assessing Your Progress
If you've already taken the time to understand the criteria for the examination level you're working towards, then you can start to assess your progress and identify areas for improvement by comparing your playing against the benchmark criteria. But you need to be objective.
One of the best ways to do this is to record yourself playing your exam pieces, and watch/listen back. Identify areas of weakness, but also make a note of what IS working, in order not to waste time on unnecessary topics (and to keep your motivation high). Then, adapt your practice routine as necessary.
It's also a good idea to re-read the criteria that your exam board publishes. This is often available in the format of a document that clearly outlines the expectations an examiner will have for each band of results.
For example, the ABRSM offers a clear, bullet pointed breakdown of what an examinee will need to achieve in the areas of Pitch, Time, Tone, Shape and Performance for each different marking level. They publish additional bulleted breakdowns of what is expected across the different sections of repertoire, scales and arpeggios, sight-reading and aural tests - again, with a list of expectations for each marking level.
This is an extremely useful tool for being able to work out clearly whether you are on track with each different element of the exam!
Simulating the Exam
Because a violin exam can feel like such an unusual and even artificial environment, it's going to feel very different to when you are playing the violin in other contexts.
To prepare for this, one of the most helpful things you can do is to simulate the situation by creating a 'mock exam'. Ideally this would be with a piano accompanist (so that you can get used to performing with another musician), and in a room that's similar to where you'll be taking the exam.
But even if you don't have access to these resources, just moving to a different space from where you usually do you piano practice, or having another person present to take the role of your examiner, can help you to get the adrenaline flowing and feel the sensation of performing 'under pressure'.
If you don't have anyone to assist you, then just set up a soft toy, a picture, or even a favourite potted plant to take the role of the examiner! Even a small change in your environment will help.
When you are simulating a mock exam, be sure to follow the same format that you will experience in the exam. Play everything in the right order, and without stopping - even if things go wrong, keep going!
This will give you a realistic sense of what it will be like on the day, and will help enormously with getting used to the feeling of performing in a pressured situation.
Exam Day Preparation
Make sure the simple, obvious things are taken care of! On the day of the exam, arrive early. Assume you will have transport problems and allow time for delays! Before you leave home, make sure that you have everything you need ... including your music and your violin (yes, we've seen it happen!).
Think about how the weather might affect you - especially if it is very hot or cold. Dress appropriately - and smartly. First impressions count, and an exam is no different.
Of course, how you play is far more important than how you present yourself! But even a single mark can make a big different between the category of result you achieve. Examiners are human, and they may be more inclined to be generous rather than strict towards a candidate who is well presented and polite.
Once you arrive at the exam venue, warm up your hands and fingers. Focus on your breathing, and use tone production exercises, scales and arpeggios to help yourself get 'into the zone' of focus and concentration.
During the exam, constantly think ahead and clearly imagine what you are going to do play next, and how you want it to sound - let your training kick in, and your body will do the rest. Stay aware of your posture and your breathing - so long as everything remains balanced and physically relaxed, you'll be able to maintain good tone quality.
If you notice any tension developing, physically or mentally, just focus on your breathing and on what's coming next, and it will soon pass. Always be thinking ahead about the music that's coming up.
If something goes wrong or you make a mistake, just move on. If it's a small mistake it might not matter at all, and if it's a big mistake you'll only lose a couple of marks at most, so just recover quickly and move on. What you don't want is for your focus and concentration to suffer - then more things are likely to go wrong.
Keep a positive energy throughout, and remember that ultimately, every examiner WANTS to enjoy your performance and give you the best result possible. So give them that opportunity - play the music the way you think best expresses the character and emotion of the music. If you do this authentically, they'll feel it too!
Beyond The Exam
Playing Beyond the Exam Requirements
Although preparing for a violin exam is an excellent way to build skills, don't fall into the trap of orientating ALL your violin learning around the exam itself.
It's just as important, if not more so, to think about your overall growth as a violinist. So as you prepare for your exam, leave plenty of time for other activities that will contribute to your musical and violinistic development.
Explore different pieces of music, genres and composers, and try to build a well-rounded repertoire. This is also a helpful focus if you have worked intensively on your exam pieces for a few days, and need to set them aside for a short period of time before coming back to them. Playing different repertoire in the meantime can help you come back to your exam music with a fresh perspective.
Also, a good selection of music for a violin exam will usually be within your technical capability. But you do need to continue challenging yourself to go beyond your comfort zone, too. Rather than risk your exam results with a choice of repertoire that's to difficult, a much more sensible strategy is to explore more challenging repertoire alongside your easier exam repertoire.
There are plenty of other creative activities that you should try to integrate into your violin practice, which fall beyond the requirements of an exam, simply because they're good for your musical development.
Try to improvise and compose music regularly, and learn about the harmony of the music that you are playing. Improvisational skills can improve almost all aspects of your violin playing, but they often don't feature in examination requirements.
Developing a Love for Music and Violin Playing
Once you're committed to an exam, the preparation process can sometimes feel like a chore - for example, if you don't feel like practising but you know you still have to do so (it happens to us all!).
So it's important to maintain your motivation and enjoyment by feeding your love for violin and music making beyond the process of exam preparation itself.
Taking the time to listen to lots of music and attend live performances is a really good way of doing this. Try to connect and network with other musicians, and people who share your interests - it can often open up all sorts of opportunities in your local community and beyond!
Experiment with different genres and don't limit yourself just to the more 'classical' repertoire that is used by the majority of music exam boards. The violin is extremely versatile, and can be played in all sorts of styles, from classical to folk and jazz and much, much more ... your creativity is the limit!
Musicality and Expression
Finally, remember what it's all about. A lot of your focus in exam preparation will be on technical skills, and although they are extremely important, making music is, for most people, ultimately about the expression and communication of emotion.
Constantly expanding your sense of phrasing, dynamics, interpretation, and musical shape is a crucially important aspect to your identity as a musician and as a violinist - as are the nuances of your sound, and the tone quality you create using your violin. You'll achieve this not by completing functional challenges set by examination boards, but by getting out there, making music, and seeing what works and what doesn't!
Always be exploring, and stay musically curious. Then, when you bring your musicianship into the examination environment, it can only benefit your ability to communicate and perform (which in turn will contribute to a better exam result!)
Good Luck!
Preparing for a violin exam can be an intense but ultimately very rewarding experience. Start preparing early, set clear goals, practice consistently, get quality feedback, approaching the exam holistically as you would for any other performance.
Not only can you develop the skills to pass an exam, but you can use the examination framework to push your musical development forwards, and become a more well-rounded and expressive violinist.
Enjoy the process, and keep pushing yourself to new heights ... Good Luck!
---
Have you discovered any top tips for violin exam success that we haven't mentioned here? We'd love to know! Tell us at [email protected] and we'll add good suggestions here, to help other violinists achieve success in their exams!
Need help preparing for an exam? ViolinSchool can help you get the best results, whether you have a personal tutor or not! Email [email protected] or get in touch with us using the form below. Or take a look at our Membership and Enrolment options, and join ViolinSchool today!
We're delighted to announce that at our London school, the new series of Beginner Violin Courses is now open for booking!
Courses for Adult Learners
Wednesdays, Thursdays and Saturdays in London
Our 10 Week Courses for Beginner violinists offer a sequenced program of learning that takes you step by step from first-time violinist to fluent intermediate player!

https://london.violinschool.com/beginner-violin-course/
Course

A for

first

-

time

beginners

Course

B is for people who've already had a few lessons (or finished

course

A!)

Course

C is for people who've already taken

Course

B! 🙂
Courses A & B run on Wednesday or Thursday evenings and also on Saturday mornings. Course C runs on Saturday afternoons from 12.30pm. Classes run weekly beginning 1st, 2nd or 4th May 2019.
Courses often sell out, so if you've already decided to enrol we recommend reserving your place as soon as possible. During the early booking period, you can also save £75 on the course fee if you book and pay in full before the end of March!
See the Full Information and Enrol Online
ViolinSchool contributor David Worswick teaches privately on Sundays at our studio in Central London (Piccadilly WC2). A couple of places are becoming available soon, for weekly one to one lessons.
If you would be interested in arranging a trial lesson, please contact David directly by sending a message via the form below!
About David Worswick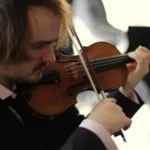 David is a graduate of the Royal Academy of Music and former 1st violinist of the London Symphony Orchestra.
He has performed throughout the world, made award-winning recordings, premiered hundreds of new works, and created a wealth of resources for violin learners.
David is responsible for much of the material you know from ViolinSchool.com, including sheet music, backing tracks and tutorials. His compositions and arrangements for violin are available at www.DavidWorswick.com.
Lessons with David
One to one l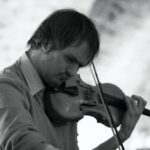 essons with David take place on Sundays, and learners of all experience levels are welcome.
The location of the studio is Whitcomb Street in Central London, UK (WC2N 7DT), and the current rate for lessons is £60/hour.
Please contact David directly via the form below to arrange a trial lesson!

It is possible to learn the violin on your own, but it may be more difficult than learning with a teacher. A teacher or a school can provide guidance, feedback, and direction, which can be especially valuable if you are starting as a beginner. A teacher will also provide a sense of accountability and motivation, which can be helpful for staying motivated and remembering to do your violin practice!
However, modern online resources mean that it is now easier than ever to learn the violin on your own. There are numerous online tutorials, videos, and resources that can provide instruction on technique, posture, and repertoire, such as the violin courses and library that we offer here at ViolinSchool.
A wide range of apps and software now exist to provide feedback on your playing and help track your progress. But remember not to become dependent on the technology - these tools are useful for testing your skill and development, but can inhibit your learning and development if you depend too much on them.
Remember also that learning any instrument takes time and dedication. Self-taught violinists need to be self-motivated and willing to put in the effort necessary to improve. This is only possible if you can identify and correct your own mistakes, and that's a lot more challenging to do without a teacher.
Another consideration if you are self-teaching yourself the violin, is that you may miss out on the opportunity to learn from a teacher's experience and musical perspective. A teacher can provide valuable insights and a different perspective that can enhance the learning experience.
So yes ... it is possible to learn violin on your own. However, it is likely to be more challenging than learning with the guidance and feedback of a teacher. For the best results, ViolinSchool recommends a blend of different learning formats including classes, lessons, and online tools ... this way you'll benefit from lots of different experiences and musical perspectives, and become a well-rounded musician and violinist.
We've completely cleared out our Library as part of our new year overhaul! And we're painstakingly upgrading and adding back in hundreds and hundreds of wonderful pieces of music for you to enjoy - many with new backing tracks and video tutorials!
This might mean that some music is temporarily unavailable in the library itself. If there's a particular piece of music that you're looking for and can't find, email us ([email protected]) and we'll fish it out of the archive for you 🙂
In the meantime, please look forward to a lovely clean new library, full of the very best music for violin!
NO, you're not too old to learn!
It's a common misconception that learning a new skill, such as playing the violin, becomes more difficult as people get older.
In terms of physical ability, of course it's true that playing the violin requires some dexterity in the fingers and some upper body strength. And yes, for older violinists, it might be harder to train the muscle memory at first.
However, it is possible to work on building these skills gradually and with proper instruction; even in older adults, the brain remains plastic and capable of learning new things.
Studies have found that older adults who engage in mentally stimulating activities, such as learning a new instrument, can improve cognitive function and reduce the risk of age-related cognitive decline.
Playing the violin requires a lot of focus and concentration, which can help to keep the brain active and healthy.
Learning the violin is a challenging and rewarding pursuit, and the sense of accomplishment that comes with learning to play a new piece can be a great source of motivation.
Additionally, learning to play the violin can bring a sense of accomplishment and fulfillment, and even therapeutic - it can improve your mood, and reduce stress
Playing the violin can bring you joy at any age - and social opportunities too, especially you play music with others!
With proper instruction and a thoughtful step-by-step approach, anyone can learn to play the violin at any age.
So no, you're not too old to learn 🙂
Online violin classes have become increasingly popular in recent years, offering a convenient and flexible way for students to learn the instrument. These classes can be taken from anywhere with an internet connection and are often more affordable than in-person lessons.
One of the main benefits of online violin classes is the convenience they offer. Students can take lessons from the comfort of their own home, eliminating the need for transportation and allowing them to fit lessons into their busy schedules.
Online classes also allow students to learn at their own pace and on their own schedule, which can be especially helpful for those who have other commitments such as work or school.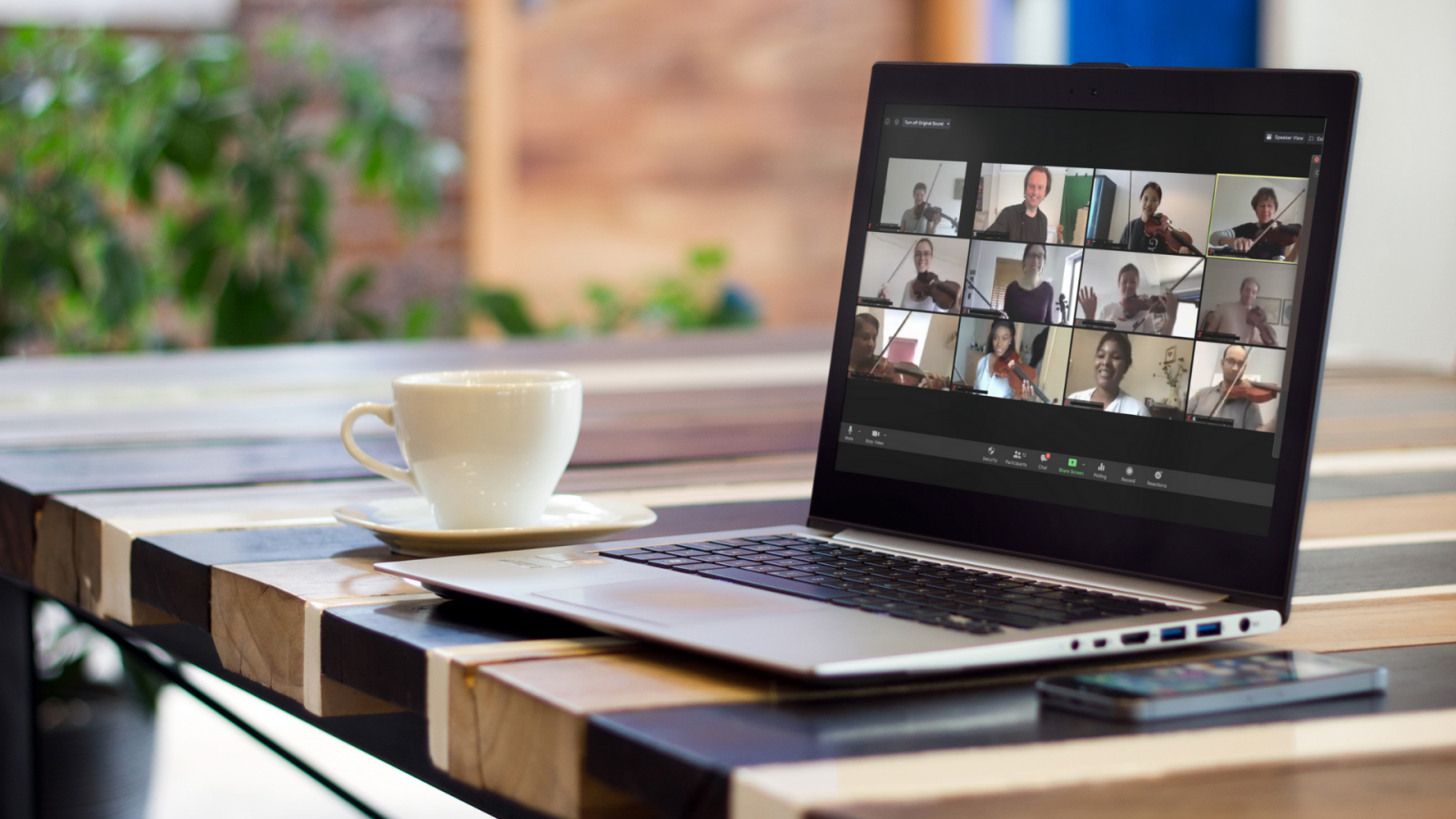 People are often confused about the difference between online lessons and online classes. A lesson is generally where a violin learner will work one-to-one with a violin teacher in a highly personalised way.
A class is a more social group setting, where a group of learners will come together through a platform such as Zoom to practise technical activities and repertoire with a teacher, alongside other learners.
ViolinSchool specialises in live group classes where you can log on and join in with other learners at the level that's right for you.
Depending on whether you're at Starter, Beginner, Intermedate or Advanced level, you can connect with other violinists via Zoom to join in and play a wide selection of repertoire and practice activities.
Take a look at our upcoming program to see the music we'll be playing next!
Another advantage of online violin classes is the variety of options available. Rather than relying only on the choices available in your local area, you can benefit from expertise from violin teachers all over the world.
This allows you to find a teacher and style of instruction that is the best fit for your learning needs.
Online violin classes also offer a cost-effective alternative to in-person lessons. Online classes are often available at a lower cost than a one-to-one lesson, which makes it easier for students of all financial backgrounds to access high-quality violin instruction.
Despite the many benefits of online violin classes, some people believe that there are drawbacks such as:
a lack of in-person interaction and feedback
difficulty for students to receive constructive criticism and to develop a close relationship with their teacher
less interactivity than in-person classes, making it harder for students to stay engaged and motivated.
... but at ViolinSchool, we don't think that's true! If that's the experience you are getting from online violin classes, then you're at the wrong class 🙂
We go to great lengths to make sure that online tuition - at ViolinSchool at least! - is never 'second best' to offline tuition. It's just a different format!
Our live classes include plenty of interaction, and our teachers will often invite learners to play or lead the group through activities, often by offering opportunities to more experienced players which gives less experienced players more confidence.
The pace of our classes is carefully planned, and a lot of effort is put in in advance of each session, to be sure that the balance of class content gives a great mix of interactivity and engagement.
As a result, our teachers have a clear understanding of each learner's progress and needs - and anything that can't be answered in class can be followed up by individual, personalised support in a one-to-one lesson setting ... online, or offline!
In our experience, online violin classes offer a convenient, flexible and cost-effective way for students to learn the instrument, and are an increasingly important part of the 'blend' of learning that learners can benefit from in today's technologically empowered world!
Happy New Year and welcome to ViolinSchool's Programs in 2023!
Live classes start again this Thursday, the 5th of January, and Saturday classes begin again next week on the 14th of January.
You can find the full updated schedule on our website, in the 'live' section.
Remember, you can take part in our live classes from anywhere. All you need is a decent internet connection!
Let's take a look at what's coming up this week:
In the Starter hour, as ever, we'll be revising the Fundamentals, and looking at how to create a beautiful sound.
If you've just started learning the violin, or you've been given a violin as a Christmas present and want to know where to begin, then make sure to join in for the Starter session.
We'll get you going with good habits from the very first time you play!
In the Beginner hour this week, we'll be centering ourselves in first position in the key of G major.
We'll make sure that all your finger placements are accurate and build up flexibility through finger pattern exercises - a really good activity, especially if you've had a few days or weeks off from playing.
We'll also be learning the Rigaudon by Henry Purcell. If you want to have a sneak preview of the music in advance, you'll find it in the ViolinSchool library, where you can also download a backing track.
In 2023, ViolinSchool members will have backing tracks and sheet music available in advance for almost all live classes. And that starts this week.
For our intermediate session. We'll begin with Dancla's Violin Study No.1, and then play some lovely music by Fritz Kreisler - Rondino on a Theme by Beethoven.
There's a Baroque piece to start off the Advanced class in the form of Telemann's Canonic Sonata No.3, and we'll be working on string crossings as well.
ViolinSchool's live classes are all about focusing on what YOU need, RIGHT NOW! So if you have any specific topic or repertoire requests, please let us know.
If you're not already enrolled for the upcoming sessions, you can sign up today, if you don't need the live classes and just want access to our backing tracks and video tutorials, then choose a low-cost membership for instant access to everything else on ViolinSchool.com.
Sign up today at ViolinSchool.com/join/
And from all of us here at Violin School, we wish you a very happy New Year and one that's full of the joy of music!
Learning to play the violin can be a very rewarding and fulfilling experience, and new technologies make it easier than ever to learn online. Online violin lessons for beginners are a convenient and cost-effective way to start learning the instrument. You don't need to travel to a physical location and it's a great way to fit in violin tuition to a busy schedule.
Online violin lessons for beginners can take many different forms. It's important to think about whether you want group classes or one to one lesson, and how much online courses will play a part in your learning. At ViolinSchool, we always recommend a blend of different formats for the best learning experience - this can include online courses, live lessons, group classes and one to one instruction.
If you are taking live lessons or classes, it's obviously important to consider the qualifications and experience of the teacher. Look for someone who has a background in music education and a track record of success in teaching beginners. Many online violin teachers will offer a free trial lesson, which is a great opportunity to see whether their teaching style is the right fit for you.
Before starting your online violin lessons, it is essential to have the proper equipment. A beginner violinist will need a violin, a bow, a shoulder rest, and a tuner. It is also important to have a comfortable space to practice, with good lighting and enough room to move around. Our free 'How to Get Started with the Violin' guide will explain everything you need to know before starting to play.
Online violin lessons for beginners will typically start with the basics of how to hold the instrument, how to place the fingers on the fingerboard, and how to produce a sound. Your teacher will guide you through exercises and scales to develop your technique, and will provide sheet music for you to practice at home. As you progress, you will learn to play simple songs and will be introduced to music theory and ear training.
One of the benefits of online violin lessons for beginners is the flexibility they offer. You can learn at your own pace and schedule lessons around your other commitments more easily than with in-person tuition. Additionally, with online lessons, you have access to a wide range of resources such as instructional videos, sheet music, and practice tracks that you can use to supplement your lessons.
While online violin lessons for beginners can be an effective way to learn the instrument, it is important to remember that they are different to in-person instruction, and most people will benefit from a combination of both formats. We recommend supplementing your online lessons with occasional in-person lessons with a local violin teacher, or by participating in a local orchestra or music program.
For example, the ViolinSchool team who run our online violin classes also present some live classes from our studio in London, England, where we also run a regular in-person violin ensemble. And our Violin Orchestra brings together violinists who learn together online, and then meet up in person in cities such as Edinburgh and London, to perform in live concerts.
Online violin lessons for beginners are an excellent way to start learning the instrument. With the right instructor and equipment, you can learn the basics of the violin and develop your skills at your own pace. Remember to supplement your online lessons with in-person musical activity too - this will help you to get the most out of your learning experience.
How To Get Started With The Violin
Everything you need to know before you start to play
Get set up ... in the best possible way!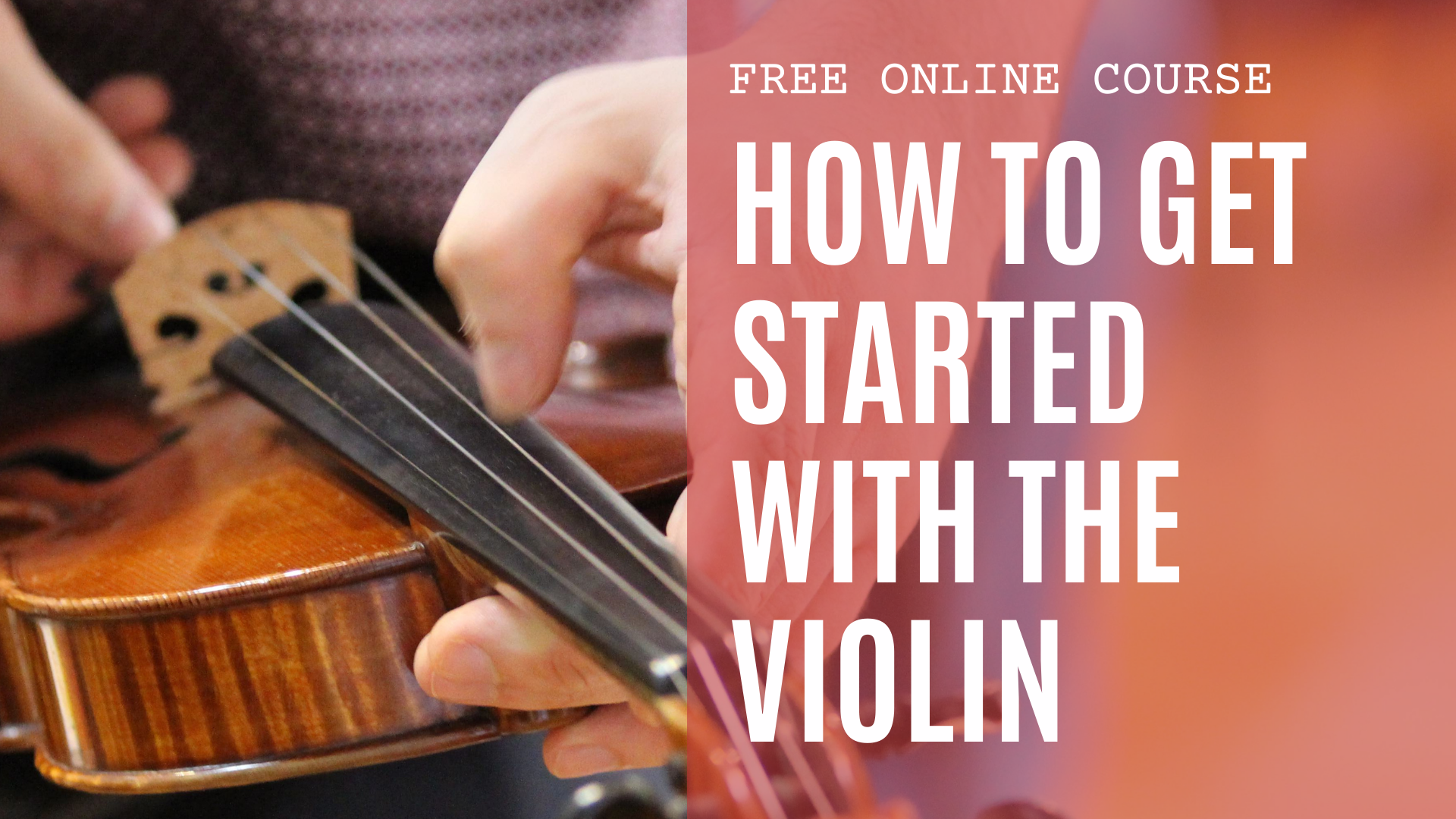 Learning a musical instrument can be one of the most rewarding skills you will ever develop. It's really important to get started in the best possible way, so that you can make the most of the opportunity.
Having a good quality violin and bow that's well set up, makes everything SO much easier. When equipment is working well, you're free to focus on the music, and on your learning.
This setup guide will help you to prepare for violin tuition, by making good decisions about the instrument and accessories that you will use.
Finding your first violin can be fun and exciting, so please take the time to consider everything in this guide, before making your first purchase or rental commitment.
If you take the time to get things right before you start, it will save months if not years of time fixing problems later on! Happy violin-hunting ... and we wish you a lifetime of joy and excitement with your music-making!
Email [email protected] today and ask for our free 'How to Get Started with the Violin' PDF!
Learning to play the violin can be a challenging and rewarding experience, but it can also be difficult to know where to start if you're teaching yourself. Here are some tips to help you get started:
Start with the basics. Before you begin playing music, make sure you understand the parts of the violin and how to hold it properly. It's also important to learn how to tune the violin and how to produce a good sound.
Learn the basics of music theory. Understanding the basics of music theory will help you read sheet music and understand the structure of the music you're playing.
Find a beginner's method book. There are many method books available for beginners that will provide you with structured lessons and exercises to help you learn the basics of playing the violin.
Practice regularly. The key to learning any new skill is practice. Set aside a regular time each day to practice and stick to it as much as possible.
Listen to music. Listen to recordings of violin music to get a sense of how the instrument should sound and to gain inspiration for your own playing.
Get feedback. If possible, find a violin teacher or experienced player who can give you feedback on your playing and help you improve.
Be patient. Learning to play the violin takes time and practice. Be patient with yourself and don't get discouraged if you make mistakes or progress more slowly than you would like.
Join a group or find a partner. Join a local violin group or find a practice partner. Playing with others can be a great way to learn and it also gives you an opportunity to get performance experience.
Remember that learning to play the violin is a journey and it takes time and dedication to master the instrument. But with patience, persistence, and practice, you can teach yourself to play the violin and become a skilled musician.
Here's the scale of F Major in one octave. Listen, sing, then play along with the track until you know the pattern from memory!
Here's the scale of C Major in one octave. Listen, sing, then play along with the track until you know the pattern from memory!
Here's the scale of G Harmonic Minor in one octave. Listen, sing, then play along with the track until you know the pattern from memory!
Get ready to play the Rumbango by practising these rumbangolicious arpeggio exercises. Feel the groove of the syncopated rhythms and irregular beats!
This study is jam-packed full of violinistic nutrients … scales, arpeggios and lots of string crossings! And, there are 72 bowing and rhythm patterns to choose from!
This fun piece swings between the Rumba and Tango rhythm patterns. Hold on tight, and keep your timing as precise as possible!
Schubert wrote this 'Cradle Song' in November 1816 to help his friend get their child to sleep!
Make sure there's nothing makeshift about the way you make shifts! Glide smoothly between 1st and 3rd position on each string, landing perfectly in tune every time!
The tide rises ever so slowly as you move up and up the chromatic scale to 3rd position on each string. Remember, a rising tide lifts all notes!!
Take a deep deep dive, descending chromatically in semitones (half steps) and then make sure you come back up for air! Oh, and don't get eaten by any sharps!
With plenty of scale and arpeggio patterns, Harry Schloming's Study No. 1 in C major is quite the workout …. a great way to get in shape, and to stay in shape!
It's time for a refresh! We're updating www.ViolinSchool.com today, so you may notice some changes to the menus, courses, and library pages.
We'll be cleaning out and updating the library and the online lessons, and a few things are moving around ... if you can't find what you're looking for, please try again later!