It's 2022! And the New Year is a perfect excuse to bring a new habit into your life ... in fact, did you know that January is the second most common time of the year for people to start learning the violin!
Maybe it's time for you to start, too? Or if you're already learning, time to join a school and take your playing to the next level?
To help you get started, we are - until 17th January - offering a HALF PRICE trial month for all new learners, so that you can try out everything that ViolinSchool has to offer!
If you already play, take a look at our new weekly program of live training - everything can be accessed live via Zoom from whenever you are (or you can visit us in London, England on Wednesdays or Saturdays!)
If you're thinking of starting to play but don't have a violin yet, then our free How To Get Started With The Violin class is the best place for you to start! We'll be running this session live on Zoom on the following dates:
Wednesday, 5th January at 4pm UTC - How To Get Started
Wednesday, 5th January at 5pm UTC - How To Tune The Violin
... or you can get started now using the free self-paced online course ... just log in and start learning!
If you do have a violin but haven't yet started to play, or if you're restarting the violin or have learnt a bit yourself already using the internet but want to take your playing to the next level, then we recommend starting with our Fundamentals classes! We'll be running these sessions live on Zoom on the following dates:
Thursday, 6th January at 4pm UTC - Violin Fundamentals 1
Thursday, 6th January at 5pm UTC - Violin Fundamentals 2
You can read all about the Violin Fundamentals here:
https://www.violinschool.com/fundamentals/
(and the in-person version at our London school you can read about here!)
About 'Violin Fundamentals'
Most people start with our renowned program of 'Fundamentals' classes, which have helped thousands of violinists to get started, restart, or troubleshoot core technique over the past 10 years!
These live classes include:
How to Get Started
How to Tune the Violin
Violin Fundamentals 1
Violin Fundamentals 2
Music Fundamentals
You can read more about the Violin Fundamentals 1 and 2 classes here:
https://www.violinschool.com/fundamentals/
September again ... How did that happen?!

Anyway, as the world continues on its crazy journey through 2020, some things still remain certain ... September is one of the most popular times of year for starting to learn the violin!

Here at ViolinSchool, we've just finished our inaugural Teacher Training Course in Dublin at the Royal Irish Academy of Music, and we're now looking ahead to the Autumn Term, which begins on 21st September.

The first batch of our new Coursebooks have arrived (they're gorgeous!), and we'll be opening pre-orders for the books in the coming days.

Our popular Zoom Practice Sessions shift to Thursdays from this week, and are open to learners anywhere in the world ... just send us an email if you'd like to drop in on a session!

The Coaching Program is now open for learners anywhere in the world to take advantage of the guidance that my amazing Coaching Team (including David Worswick and Caroline Lumsden) has to offer.

And if you're in London, you can find out more about what's going on at the London school in our Autumn 2020 welcome letter.

Now's a perfect time to get started with the violin, so get in touch with us today at [email protected] or give us a call on +44 (0) 20 3051 0080, and we'll recommend the best place for you to start!
Dear all,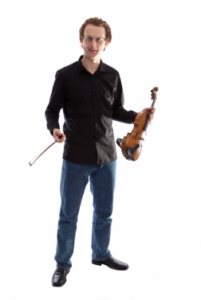 I am writing to update you about our plans for the London school during the Summer 2020 term.
Firstly, I hope this finds you safe and well. I'm painfully aware that, for a minority of our community, music is - right now - not at the forefront of our minds.
If that's you, please know that we're thinking of you, and we'll be here for you whenever you're ready to begin playing again.
For the rest of us, we need to prepare and be ready for when things get back to some kind of 'new normal', because in the coming months, people will need the solace, joy and excitement of music more than ever ...
... and getting ready for that is what Summer 2020 at ViolinSchool will be all about!
Summer Term Delayed Until First Week Of May

As with so many small organisations around the world in recent weeks, the months of March and April have not been kind to ViolinSchool.
But we're here for the long term. We've had to adapt rapidly to the changing situation, and I've taken the necessary decisions that will not only see us through the coming months, but continue to grow and thrive long after the current situation is over.
That said, we do need a couple more weeks to rebalance and catch up, so the start of our Summer Term is now delayed, and will start two weeks later than planned, in the week beginning 4th May.
We are now gradually working through our backlog and hope to be back to full speed by the end of April. We are immensely grateful for your support and patience.
Thank you.
Summer Term Enrolment & Course Fees

Enrolment
If you are already enrolled --
If you are a new student booked into a beginner class or course, we will contact you individually in the coming days to make sure you are set up correctly with an instrument. Your first group class will be in the first week of May.

If you are a continuing student, your ViolinSchool Membership will be extended until the end of August, and we will contact you before the end of April to welcome you to the new term. Your first group class will be in the first week of May.
If you are not yet enrolled --
We are extending Summer Term registration until Tuesday 5th May at 5pm (late enrolments can be accepted up to and including Tuesday 19th May).
Please note that not all registration pages / forms are updated with this latest information, however you can still go ahead and register as normal.
Term Fees

We understand that your finances might be in an unusual place right now. We are also facing significantly increased costs, albeit offset against venue reductions. It is a very challenging time for many of us.
In order to help with tuition costs, we have been able to make the following adjustments:
For those who need it, course fees are reduced from £350 to £275 for the Summer Term.
Monthly instalment payments are available on

all

term fees, including reduced fees.
Limited further support may be available should you need it.
We have always strongly believed that lack of financial resource should not be a barrier to learning music. If you need help with fees, please ask.
Although our resources are limited, we will always subsidise committed learners where we have capacity do so.
A New Digital-Centric Approach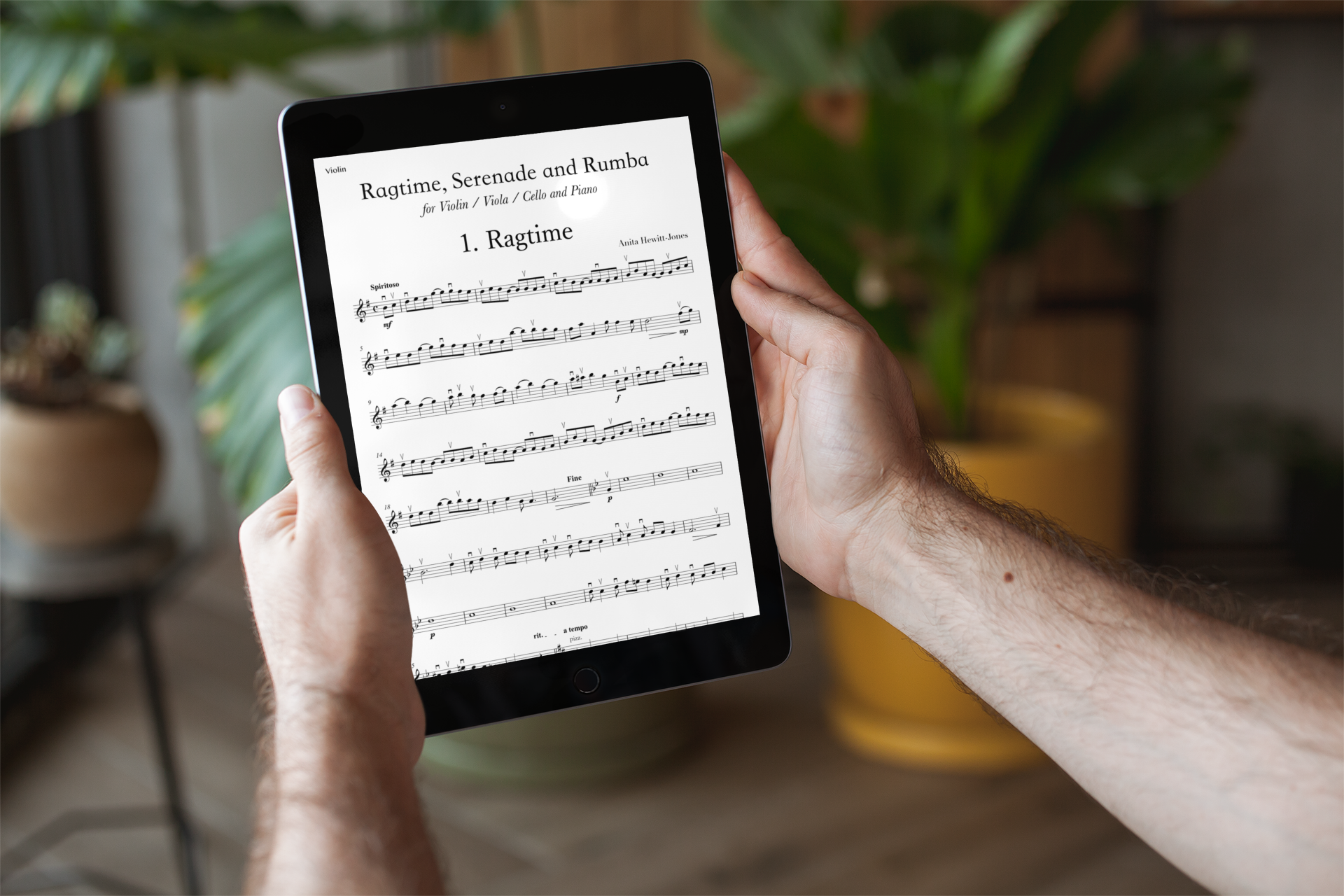 All of us at ViolinSchool are, as ever, completely focused on how to to provide you with the very best learning experience.
But a new reality requires a new approach, so instead of adapting our existing London program, we have reinvented it completely.
We will continue to monitor goverment advice, and still hope to re-introduce 'hybrid' online/offline classes in Pimlico during the second half of term, if it becomes safe to do so.

But we can't rely on this definitely happening. Therefore, Summer Term courses will be delivered through a mix of tuition formats:
Online Course Modules (A, B and C)
8x Live Zoom Group Classes (at a pre-set weekly time)
Short 121 Followup Sessions
Video Exchange
Although this approach is new for many in our London community, we have been trialling it successfully for several years with our international learners, and I can highly recommend it.
In fact, I have been hoping for several years to bring hybrid digital- and offline- learning to all of our London community!
Why? Because, quite simply, I strongly believe that a blend of online and offline learning leads to the best results.
For this reason, I actually see this time as a very exciting opportunity to develop a new standard of learning for the violin.
How It Works:
1. Online Course Modules
For courses A to C, class materials will be available to you on ViolinSchool.com (for D and E / Ensembles, we will be sending music to you by email instead).
You will be able to download music and exercises, and look at basic instructions in advance of each class.
2. Live Zoom Classes
In each live session, we will go through the materials from the most recent module(s). We'll work through each exercise and activity in real time, and there'll be time to answer any questions that you may have.
3. Optional Short Followup Sessions (Skype or Zoom)
Should you need more help or support than is available in the group class, I and/or Marisol will be available for short 20-minute 121 followup sessions. We will be able to give personalised feedback or work in depth on a topic as needed.

Coaching times will be released weekly, but will usually include Tuesday and Wednesday evenings, and some weekday daytimes.
A couple of followup sessions and/or video exchanges will be included for each course participant. If you feel the need for more, further 121 coaching will available at a reduced rate.
4. Video Exchange
These are exactly the same as coaching sessions, but not in real time. If short coaching sessions are not possible for you due to scheduling, then you can simply upload a video performance for assessment and feedback.
Revised Schedule for Live Zoom Sessions
(all times London/BST)
Thursdays (beginning 7th May):
6.30pm to 8pm - Adult Course A
8pm to 9.30pm - Adult Course B
Saturdays (beginning 9th May):
10.30am onwards - Parent & Child Courses
12.30pm to 2pm - Adult Course C
2.15pm to 3.45pm - Adult Course D/E
[May only] 4pm to 4.45pm - Ensembles
[June only] 4pm to 6pm Violin Orchestra Preparation

Revised Dates
Preparation Week 1: Saturday 25th April
Preparation Week 2: Saturday 2nd May
Week 1: Thurs 7th & Sat 9th May
Week 2: Thurs 14th & Sat 16th May
Week 3: Thurs 21st & Sat 23rd May
Week 4: Thurs 28th & Sat 30th May
Week 5: Thurs 4th & Sat 6th June
(exceptionally, there will be no half term break)
Week 6: Thurs 11th & Sat 13th June
Week 7: Thurs 18th & Sat 20th June
Week 8: Thurs 25th & Sat 27th June
Revision Week: Saturday 4th July
Summer Concert: Saturday 11th July
Summer Violin Orchestra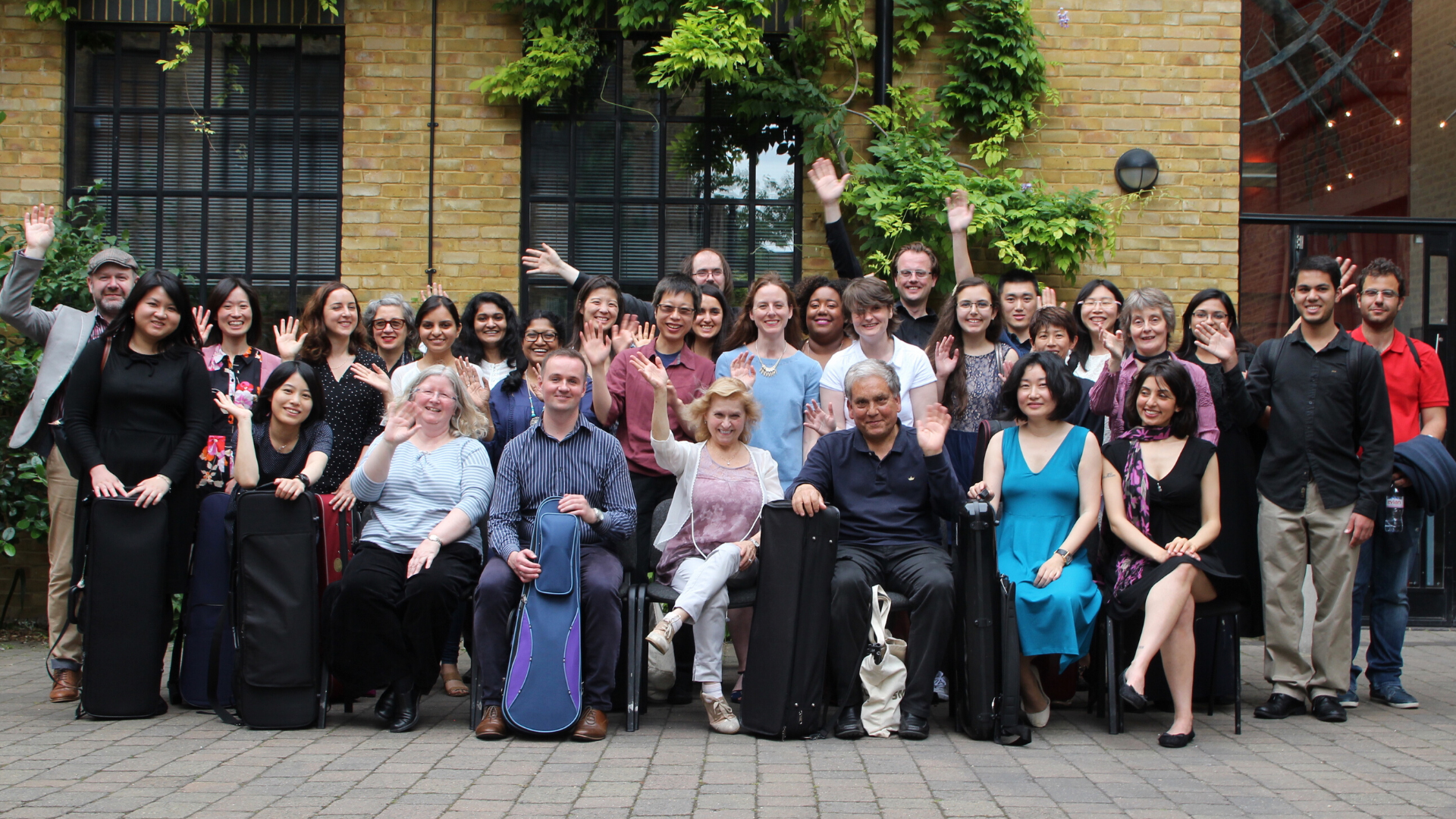 Violin Orchestra repertoire will be available by the end of May.
The Violin Orchestra is scheduled to run on Saturday afternoons (4pm to 6pm), replacing the Ensembles session on the following dates: June 13th, June 20th, June 27th, July 4th.
Rehearsals & Online Participation
All Violin Orchestra repertoire will be fully available online, and 'virtual' participation will be possible.
If it is safe and possible to do so, orchestra rehearsals will take place in Pimlico between 4pm and 6pm, with social distancing in place. These sessions will be fully Zoom-enabled, so that participants can join in from home if they are unable to travel.
If it is not possible to run Violin Orchestra rehearsals in Pimlico as planned, they will take place as online webinars instead.
Summer Concert
(Saturday 11th July, 2.30pm, Westminster City School, London)
If possible, we will run this event as scheduled, with social distancing protocols in place if required.
If this is not possible, we will reschedule the dress rehearsal and concert to early September (rehearsals will still take place in June via Zoom webinar).
If this is not possible, we will pre-record the concert remotely.
Beyond the Summer: Digital and Physical
Though our London school is incredibly important to us, it's actually not the main part of what we do. 'ViolinSchool' pre-dates ViolinSchool London; we originally launched in 2012 as an online school for the violin, but the idea was too ahead of its time.
No longer! As we move ahead into September 2020 and beyond, you can expect ViolinSchool to leverage the power of digital technology more than ever before. We're going back to our digital roots! Everything we do will be available digitally, not just physically.
I promise you this can be done in a really good way. Physical experiences such as concerts and printed books become even more important when digital resources are ubiquitous.
Digital formats don't replace physical formats. But each plays its role in enhancing learning, music-making, performing and listening experiences. More digital options don't detract from what's precious and unique about shared in-person events. If anything, the opposite is true.
In the next few days, you'll see our newest books and courses being released. Over the coming months, many more will follow. Our daily online lessons, weekly emails, and regular YouTube videos will restart next week.
So, please keep an eye on this blog, and look out for our emails 🙂
**
Thank you again for your support and commitment to learning during this remarkable time. Together we will get through it, and emerge stronger.
On behalf of everyone here, Happy Spring, and ... whether on-screen, or in person ... see you soon 🙂
Simon
So, the world has changed.
When there's not a Pandemic, ViolinSchool is based in the centre of one of the world's most frenetic cities, so we know only too well that the fast pace, the busyness of 21st century life, is beyond a cliche.
Stop the Ride – I Want to Get Off!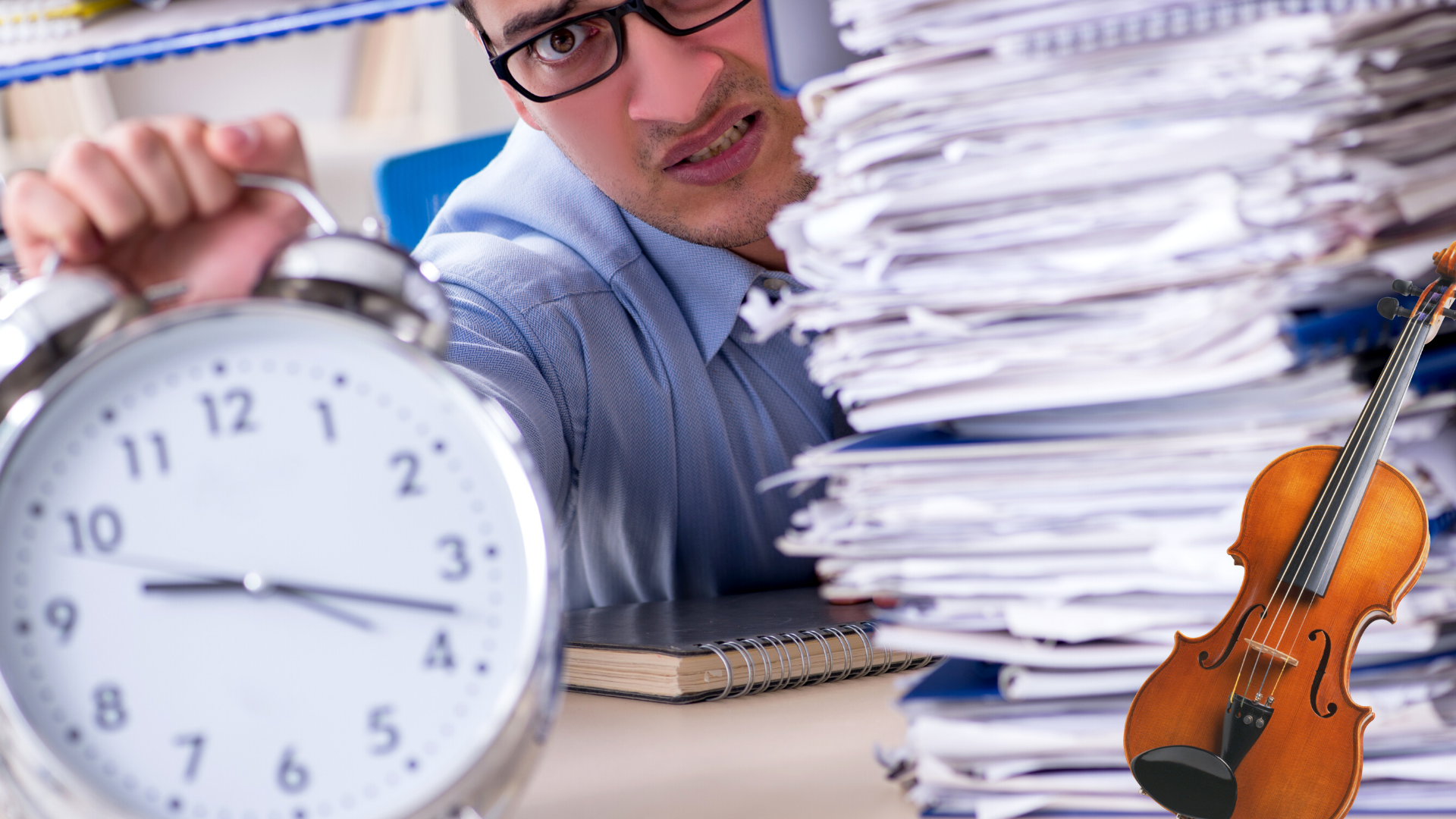 Well, if ever there was an opportunity to entirely think the way we live, this is it. Whilst medical professionals fight the front line, for many of us, the most helpful thing we can do is to stay at home.
If we do, then - for all the tragedy and uncertainty that's unfolding around us all across the world - the vast majority of people will be physically fine.
But perhaps we can aim for more than that. Being physically fine is one thing, but being mentally and spiritually fine is another.
Not just individually, but as a global community.
A Creative Reimagining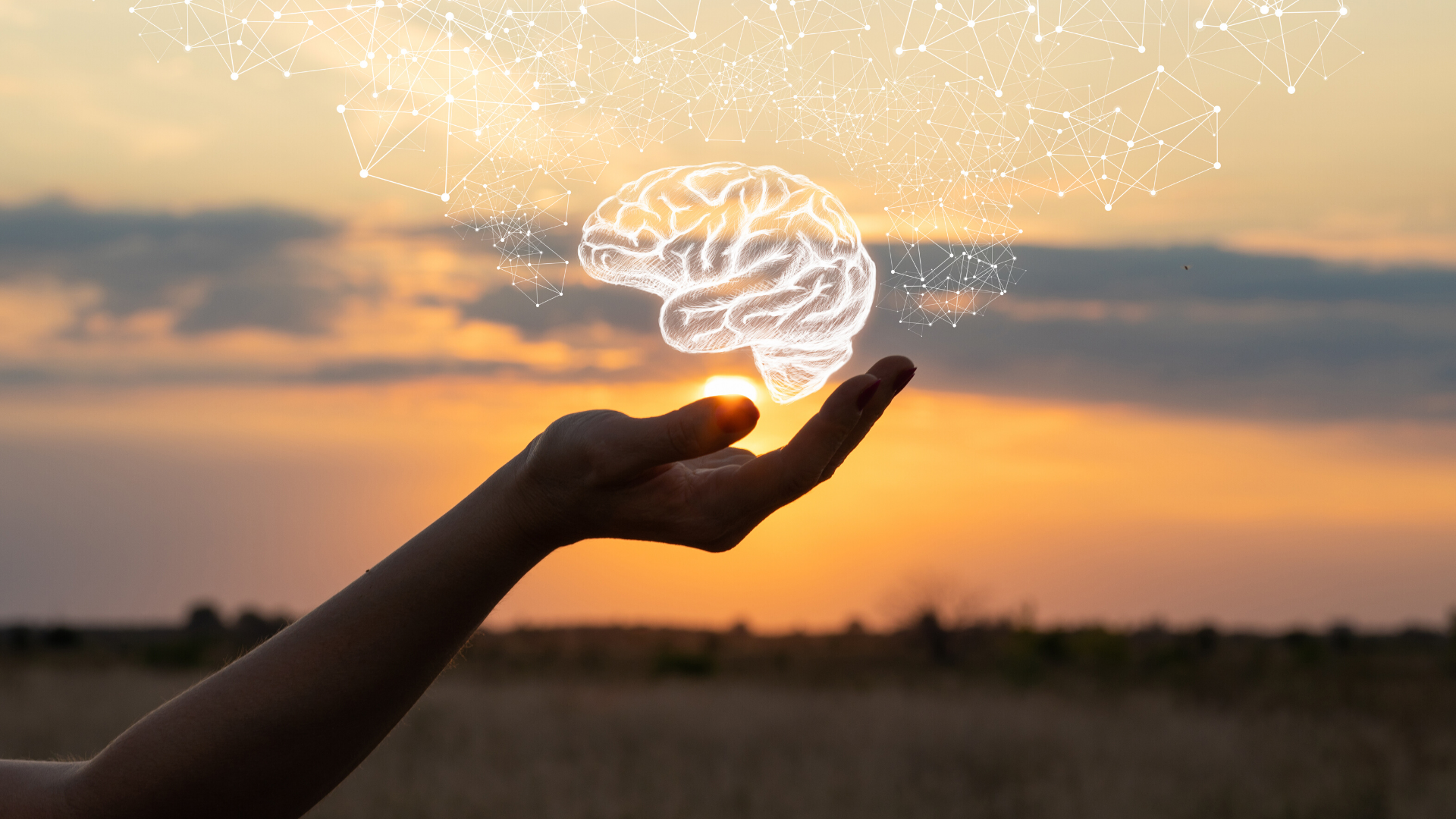 Imagine if all across the world, we use this time to reinvent who we are. To bring all the most important parts of our lives to the fore. To put human things first.
Creativity and imagination can usually be found at the root of everything great that humans do.
But so often, at least in the world we lived in until a few weeks ago, these crucial human skills came second to 'surviving the rat race' of modern life.
I know first hand how many of our learners struggled to balance the necessities of day to day life, with the desire to realise their potential and spend time on the things that really mattered to them.
Goodness, we've struggled with it ourselves on a daily basis at ViolinSchool. As the saying goes, it's hard to focus on what's important when your attention is always eaten up by what's urgent.
For all the professional musicians that I know, that's completely changed now. In the space of a couple of days, all existing plans (and work!) are lost, and entire reinvention is required.
As Learners and as Teachers, we need to do the same.
Your Tribe, Your Community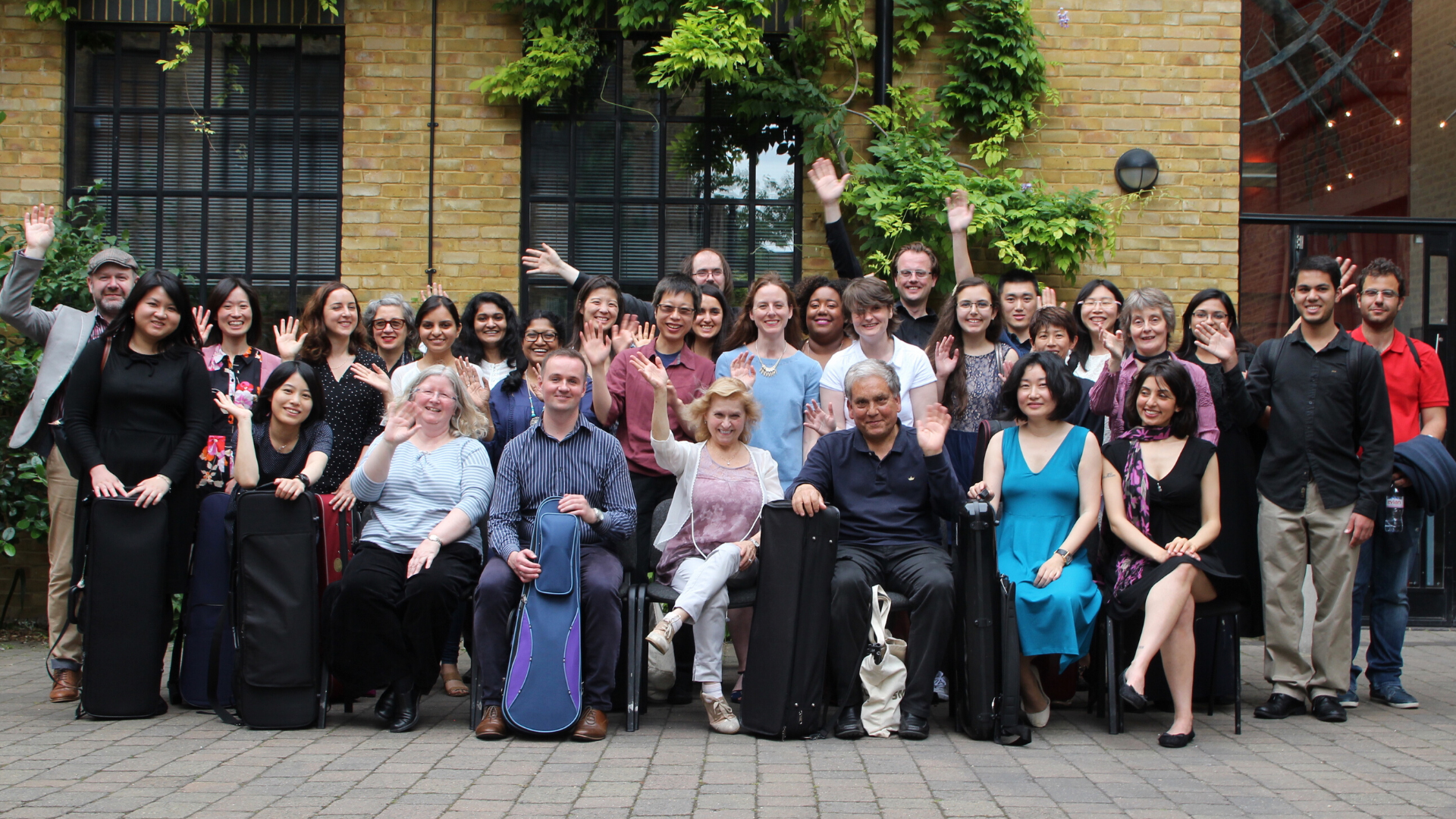 That said, for the past decade, ViolinSchool's Approach and Values have guided us to where we are today. Creativity and community have always been our guiding forces, and I put it to you that those two things are sorely needed as, by the hour, our world reinvents itself in front of our noses!
All of us have our own medium for finding Zen. For some people, it's baking a great loaf of bread. For others, it's drawing a great picture.
Others still, find self-actualization through writing, coding, gardening, travelling, dancing, making, caring, and connecting with others (we are, after all, social creatures ... even when that connection is by necessity through a screen!).
For us, it's music. And particularly the violin.
And if that's you too, then come and join our tribe, and consider ViolinSchool a home from home.
A Community for Everyone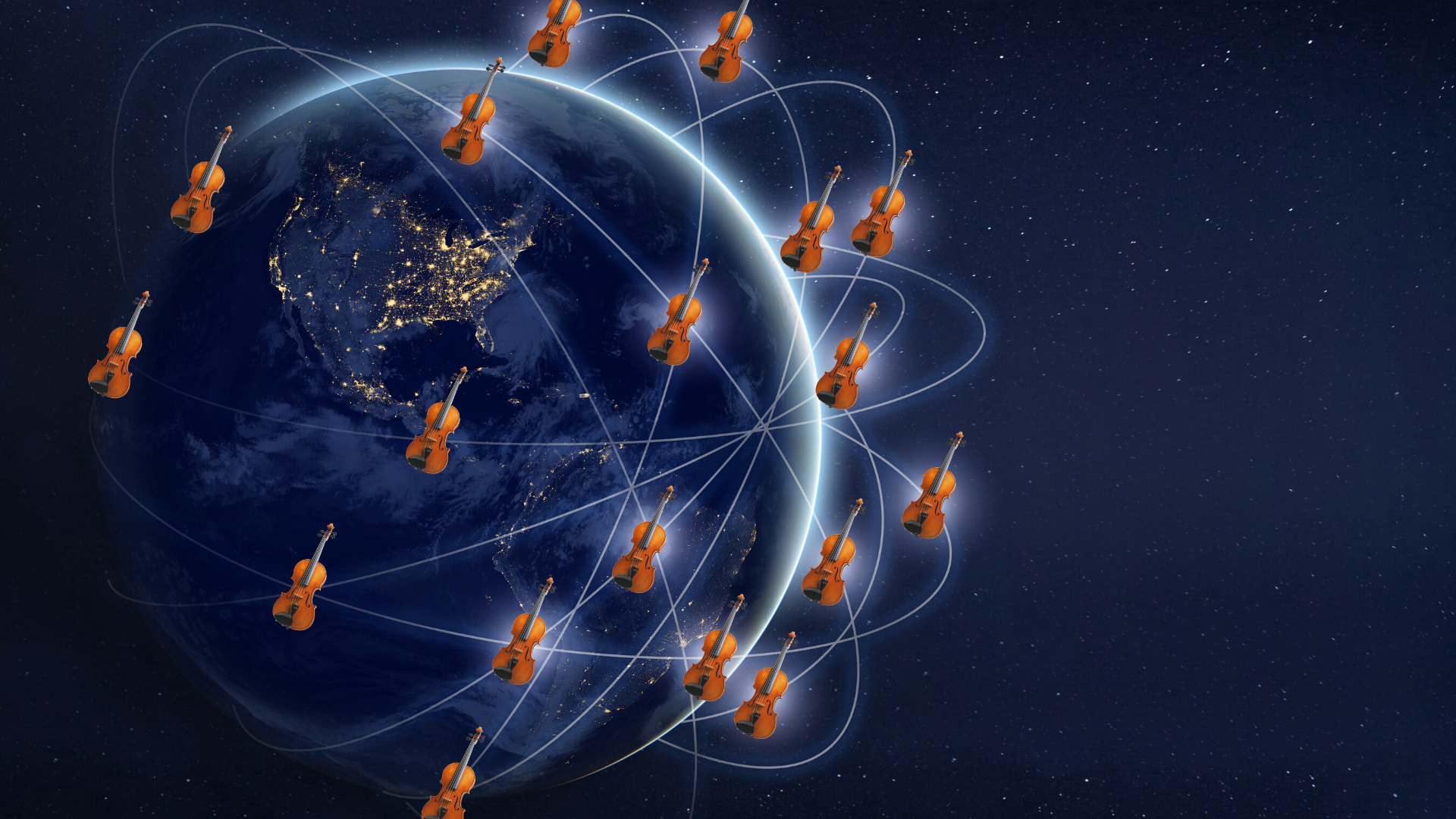 Many people don't realise that ViolinSchool was started, back in 2012, as a purely online school (our offline school and publishing came later). Or that I eventually plan to turn it into some kind of co-operative, B Corp, or other social, community-owned entity. But that's always been the plan.
Officially, ViolinSchool's mission is to bring high-quality, affordable violin education to anyone, of any age, of any experience level, anywhere.
But we know that learning a musical instrument and fulfilling your potential is about much more than that. It's about becoming empowered to be the best you can be, it's about growing beyond your comfort zones, and it's about developing your musicianship beyond what you knew to be possible.
But it's also about connecting and sharing the creative act of music with other people. And thanks to modern technology, that's something that can now be done from anywhere.
Where We're Going Next
A dream without action is just a dream. So this is not a time for cabin fever. I urge you to pick up your violin, right now if you can, and begin to play.
Starting today, we'll be reinventing ViolinSchool in real time (or rather, doing what I've always wanted us to do, now that the world is ready for it!). As we do so, we'll be sharing every innovation and every experiment right here on ViolinSchool.com and on our YouTube channel.
Most importantly, we'll be explaining how YOU can join us in our journey of envisaging a better world, and a better way of being.
I'm not asking you just to 'follow' our journey, but to be part of it.
Because the reason ViolinSchool exists, is to help you become the musician that you want to be, so that together we can contribute to build the world we want to see.
And if there's a time to make that dream a reality, then what better time than ... now?
Hello everyone!
Here in London, the new term is starting, and for the first time ever we are synchronising our online and offline tuition.
Regardless of whether you're learning with us here in London or from anywhere around the world, you'll have access to exactly the same course content, learning resources, exercises and learner support.
The class structure of the London Beginner Courses A, B and C will form the basis of our Online Courses A, B and C which we'll be releasing gradually over the coming weeks.
If you'd like to be notified when each course becomes available, don't forget to join our mailing list - you can leave your email address on the courses page.
I'm reliably informed by our technical wizards that all Member accounts have now been transferred over to the main website at www.ViolinSchool.com so you can now log in there with your existing details (though you may need to reset your password depending on when you originally registered... if you need any help just email [email protected]).
More about this soon, but the big news right now is that...
The New Digital Library is Live!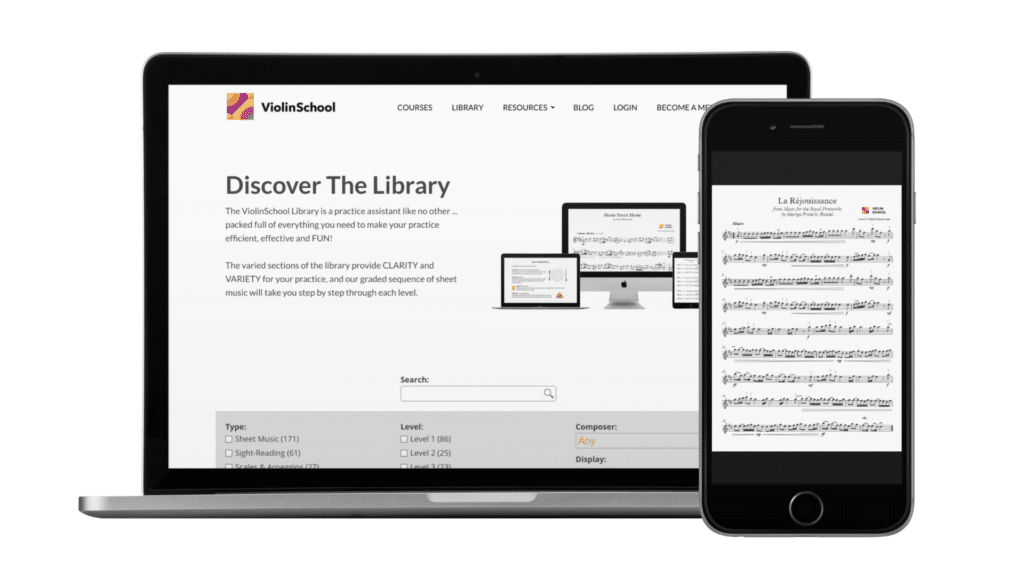 I'm super excited to let you know that our upgraded Digital Library is now fully stocked and ready to use!
There's sooooooo much more we have in the works for the Library, but the most important things that you can use right now are:
Search - you can now go direct to whatever you're looking for by typing it in the search box!
Faceted search - you can now search through the library according to type and level of learning resources (with more options coming soon)
Browse - it's much easier now just to snoop around and see what's what. We'll be adding new learning resources to the library every week form now on.
Weekly Updates / New Learning Resources
Because there's so much happening now that term has started again, it's hard to keep track without a regular update, so we're restarting the ViolinSchool Updates most weeks from now on.
If you're a member, you'll get a weekly email with direct links to all the new resources, tutorials, and lessons so you can access them in one click.
And if you're not a member yet, signup is open again - you can join today for $19 and access absolutely everything in the library instantly!
Requests & Feedback
Remember that as a ViolinSchool member you can send requests for sheet music, exercises and tutorials.
Requests that we know will be useful for other learners go straight to the top of our production list. So ask, and ye shall receive!
And of course we ALWAYS love to hear your feedback (in fact, most of what we do has been built according to what our learners have asked for!)... so don't hold back, let us know
Stay tuned for more!
We'll be blogging regularly from now on to share with you all that's new, including new topics and video tutorials as they are delivered.
So bookmark this blog and keep an eye on your inbox for our newsletters!
OK, that's all for now. More soon!
- Simon 🙂
---
This is one of the busiest times of year here at ViolinSchool, but I'm going to take a moment out to show you some of what's coming up here at VS towers!

The overhaul of our Digital Library is nearly finished, and if you're a member of ViolinSchool, you'll be getting an email soon to let you know where to login.
Did you know we also welcome member requests for new additions to the library? 
If there's a piece of music you'd like to learn (subject to copyright!), or a technical topic that you need extra help with, tell us what you need.
If it's something that will benefit other learners, we'll get it done for you at no cost (ViolinSchool membership required).
The start of November means the start of The Violin Orchestra for our school in London, but we'll also be making the Violin Orchestra repertoire available to all our members, wherever you are.
You'll be able to build up your performance experience by practising along with the new MIDI score and part videos, which will show you what to play, when to play and how to play!
We made a decision earlier this term to merge the structure and curriculum of our online and offline courses (from our London school). The reason for this is that we've found learners make better and faster progress during offline courses, if they also have access to the same materials online.
A blend of online and offline learning gives a really comprehensive all-round experience, by offering multiple perspectives on core material. It also provides useful patterns of repetition in your learning... exposure to new ideas at different times in different ways helps with both understanding and with retention.
We're updating the online courses right now and members will have access to all of them really soon (we'll email you as soon as they're accessible again on the main ViolinSchool.com website).
Finally, our regular weekly email updates begin again from this week, packed full of new videos and partitions for you to enjoy. If you're not already on our mailing list, make sure you're subscribed so that you receive our newest content each week! We'll send you superb new resources every Thursday, to keep you focused in your violin practice.
Have a great November, and we wish you the very best for your practice sessions over the winter season!
- Simon, ViolinSchool
September is always an exciting time here in London (the home of ViolinSchool). Yes, there's a tinge of sadness that Summer is fading away... but as the nights here begin ever earlier, there's a buzz in the air... it's a time for new things, a time for action, and a time to work hard and get things done!
The beginning of an adventure is always a time of immense possibility; a time of anticipation as we imagine the trials, tribulations, and successes that lie ahead. The start of a new year of learning engenders all of those emotions: excitement, inspiration, and perhaps a little trepidation!
But the first step is the most important one: deciding to take the journey! I believe that committing to growth and self-development as a musician is one of the most powerful decisions a human being can take... and I wish every single one of you courage, resolve and strength as you embark upon the next stage of your learning!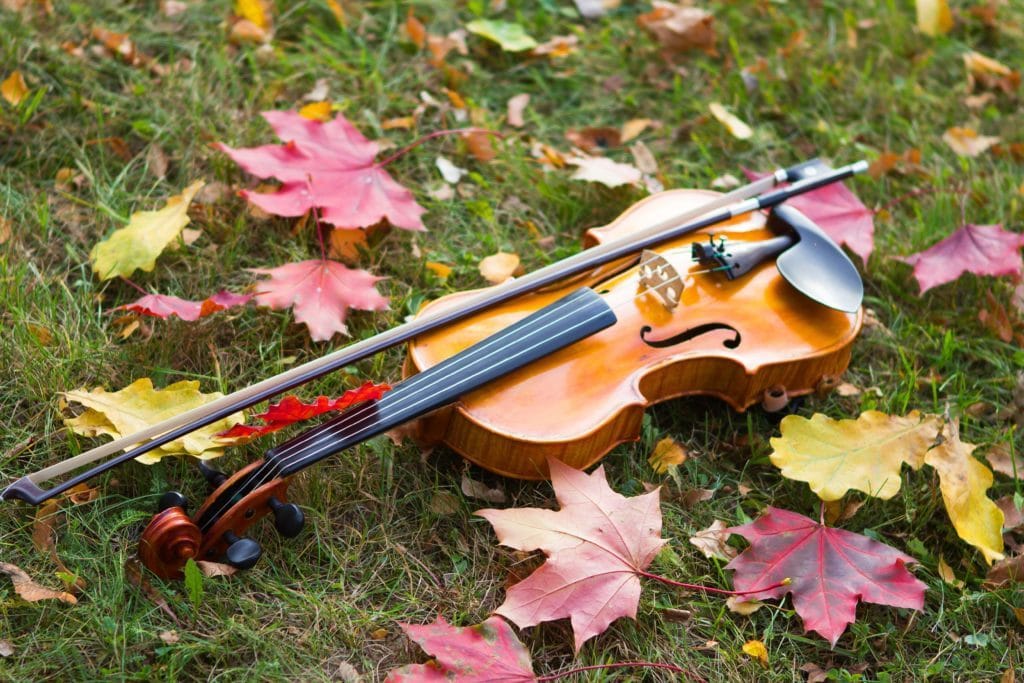 ---
Coming up at the London School
Here at ViolinSchool, we are looking forward immensely to the coming year (tumultuous and chaotic though it may be in the wider world!). Our research has shown that our eLearning will be greatly strengthened by growing our local school here in London. So we've doubled down on our development of the classes and courses at our London school.
This term, our Beginner Violin Course for Adults introduces a new level, Course C. As with the A and B courses, we'll be adding all of the course content to our eLearning, so wherever you are you'll have access to new video tutorials and repertoire at the C level.
I'm also super-excited to welcome my aunt Caroline Lumsden to ViolinSchool London... she'll be introducing our new Children's Violin Course, alongside Setareh Mood who now begins teaching children at our London school. We begin with the 3-9 year old age groups, with courses for older children (and parent-child online learning) coming later.
Caroline is acknowledged as an international expert in children's learning of string instruments, and her work brings together the very best of diverse approaches such as Dalcroze, Kodaly, and Suzuki, with an environment that inspired deep creativity and fun for every child. It's a truly holistic approach that's designed not just for learning violin, but for all-round development of beautiful musicians and human beings!
I'll be entrusting my own children's music education to Caroline and Setareh - and if you're in London, I hope you'll consider doing the same! Take a look at the Children's Violin Course page and get in touch.
Online Learning
Although the reach of our London School is significant (and you're always welcome to come and visit!), the biggest impact of our work comes from helping people all around the world to learn. And to speed the development of our online learning, we'll be putting our blog front and center of our teaching.
Blogs are a superb way of covering in-depth ideas that don't fit into eLearning courses, but they're also a way of developing new concepts and engaging with an audience. We'll be publishing here more regularly, and I'll be excited to introduce to you new guests and ideas that will provide ongoing inspiration as you move steadily through our curriculum.
One of the strongest aspects of ViolinSchool's London school - and indeed one of our core values - is Community. This Autumn, I'm looking at ways we can better bring our amazing community online. Do we finally develop our member Facebook group into a popular, well-used discussion group? Or would you prefer a closed-door online forum for ViolinSchool members to meet and discuss ideas in depth? I'd love to hear what you think.
Wherever you are, and whatever you're working on, we look forward very much to hearing you play soon. Happy practising, and talk to you soon!
- Simon
Director, ViolinSchool
Hi everyone!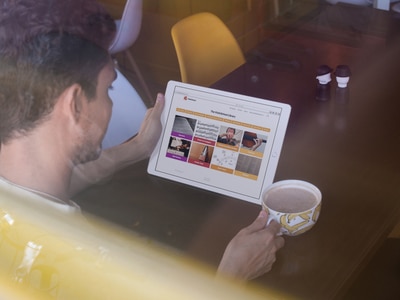 Autumn is in full swing, and here at ViolinSchool we've been busy beavering away behind the scenes, making preparations for three BIG ViolinSchool projects, which we're about to unwrap...
The new, expanded Digital Library (already a VS member? Take a sneak preview here!)
More Online Courses taking you right through Level 1 of our Curriculum and beyond.
The Violin Orchestra that we run in London twice a year - booking opens early next week!
Look out for news about ALL of these over the next month or so! In the meantime...
**
London Ensembles - 21st & 28th October
If you're here in the UK, come and join us! The Orchestra will now begin on Saturday 4th November, but before that, we're running two sessions for everyone who'd like to join the orchestra, on these dates, in London (Victoria/Pimlico):
This Saturday, 21st October (1-3pm Orchestra Preparation Workshop, 3pm-5pm Performance Class & Ensembles)
Next Saturday, 28th October (1-3pm Orchestra Preparation Workshop, 3pm-5pm Performance Class & Ensembles)
Click over to our London School website for all the details.
Not in the UK? Keep an eye on your email and our Facebook page for news about the new Library and Online Courses!
Happy practising!
- Simon
Hi Everyone!
Wherever you are, I hope you're having a great summer! Here at ViolinSchool HQ, we're pushing forward with our video production, and rolling out the long-awaited Learning Guide which will soon be available to all our members.
Every week we'll now be releasing new video tutorials. Core content will be published in the Learning Guide and in our Online Courses, and our free tutorials and other special video content will also appear on our new Youtube Channel.
Here's a video from the 'Essentials' course, which explains how to practise the 'Circles' exercise:
As we move through into the autumn, we've got many many video tutorials coming your way, to guide you sequentially through all the most important topics that will help you to play the violin the way you want to! So stay tuned to this blog, as well as to our Facebook page, and we'll keep you updated whenever there's a new video for you to enjoy.
Thanks for watching!
Eagle-eyed readers may have noticed that over the Easter weekend, our content goblins and our tech wizards have been beavering away with some very useful updates to the ViolinSchool learning platform!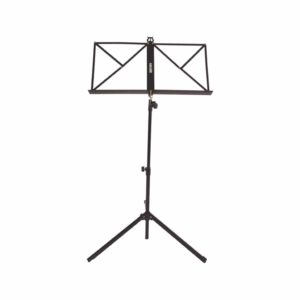 Practice is such a critical violin-playing skill that we felt it needed its own section! So you'll now find Practice in the top menu bar, with the key ideas outlined in the How to Practise page [membership required].
Sight-Reading now has its own dedicated homepage, where members can browse and download our whole library of sight-reading exercises, as well as articles on how to learn and practise this essential skill.
Scale Central is the go-to place for starting your scale practice! We'll be adding extensively to this section over the coming weeks, with downloadable charts and routines as well as all the different scales for you to cover in your practice sessions.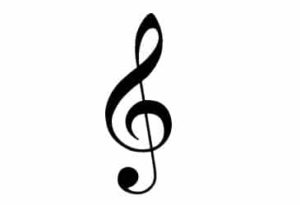 We'll be introducing 5 Minute Workouts in more detail later this week, but members can already see the first few online here. These are terrific tools for the technical part of your practice... we've got a giant stack of workouts coming your way in the next few weeks too. More about this soon!
The Music Theory section has also been updated. We know that for several learners it's a priority to get your Music Theory skills in shape, so we'll be adding a lot of tutorials to this section as well.
**
There's so much more to share with you in the coming days, but in the meantime we hope you enjoy these new updates, and don't forget to let us know if there's something specific you'd like guidance on... we're publishing daily again from today onwards, so send your feedback and requests to [email protected] - we're happy to help you with your learning!
David and I once came off stage in Switzerland after a concert, and as we were returning to the dressing room, a man approached us with a big grin on his face and said, in possibly the strongest Irish accent I've ever heard...
"Tell me boys ... why do you use those partitions?"
"Erm, sorry, the ... ??"
"The partitions lads, the partitions!"
"Partitions??"
"Yes lads ... you didn't seem look at them once, so why do you need them partitions?"
This awkward conversation went on for quite some time, until we finally worked out what he was talking about!
We didn't realise that, in French, the word for 'sheet music' is 'partition'... Turns out he wasn't referring to a structure that divides up space - he was asking about the sheet music we were using!!
Anyway, since that day, the ViolinSchool team has always referred not to 'sheet music', but to 'partitions' (usually said in an Irish accent!)
So it's with great pleasure and excitement that we introduce to you our all-new...
Library of Partitions!
https://www.violinschool.com/sheet-music/
Our new sheet music (partition!) library contains hundreds of pieces of sheet music for ViolinSchool members to download and print.
We're adding more partitions every week, and members can even request pieces or songs for us to arrange (subject to copyright!).
If you're not yet a member, just send us a quick message and we'll be happy to email you a few free Partitions to try! (just tell us which ones you'd like to have)
Here's what's new in the updated library:
Much faster, easier to load
All sections on one page - see everything at a glance
Full preview of each partition, so you can see each piece before you download it, no extra clicking necessary!
One-click downloads when you're logged in as a member
Video Lessons for selected partitions
'Other Videos' - featured performances and recordings from around the web.
Optimised for mobile and tablet so you can download and print easily from any device in a couple of seconds
https://www.violinschool.com/sheet-music/
I'd love to hear what you think about the new sheet music library. Do leave a comment below and let me know! Enjoy 🙂
- Simon HJ
p.s. if you'd like to download all the partitions and everything else that ViolinSchool has to offer, become a member today! We'll send you a welcome pack in the mail, full of great violin books to give a boost to your violin practice!
Happy New Year from everyone here at ViolinSchool!
We've got some exciting news to share with you for 2017...
---
Sheet Music Publishing Partnership

We're really happy to announce that the ViolinSchool team is taking over management of Musicland Publications, a leading publisher of sheet music and educational materials for string instruments.
Musicland itself is a family business, established in the 1980s by Alan and Caroline Lumsden (Hewitt Jones). Caroline, who is the aunt of ViolinSchool Director Simon Hewitt Jones, has been an advisor to ViolinSchool since 2013, and we're really excited to be bringing together her experience of educating children with all of the expertise in adult learning that's been built up by the ViolinSchool team in recent years.
In the near future, we'll be collaborating together on several ViolinSchool books, including all-new 'tutor books' that will complement our online learning programs. But the Musicland catalogue is already a goldmine for string players (and many of our London learners and Violin Orchestra players are already familiar with some of Musicland's chamber music!)

The new Musicland website is now live at www.musiclandpublications.com featuring 50 of the most popular pieces from the catalogue (and the rest will be arriving over the next few weeks). Music is despatched daily from our dedicated 'cottage warehouse' in South-West England, and as each edition is revised and updated, digital versions will become available through ViolinSchool and other digital sheet music distributors.
---
Release Dates for Online Courses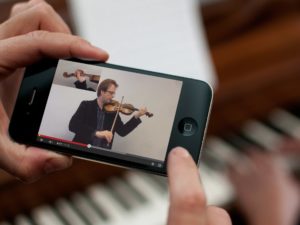 We're happy to announce release dates for the revised online learning programs:
Thursday 26th January –The Essentials (see the list of study topics)
Thursday 2nd February – How to Practise
Thursday 23rd February – Level 1 (see the list of study topics)
Thursday 9th March – Level 2 (see the list of study topics)
Thursday 23rd March – Level 3 (see the list of study topics)
Thursday 6th April – Level 4 (see the list of study topics)
We can't wait to share these great new resources with you! Access to all of these great new courses is included in ViolinSchool membership, and we'll let you know by email as soon as they become available. Remember, you can check our online curriculum to see all the topics that will be coming your way.
---
The Violin Course
The other big project we're about to start is The Violin Course, our epic 12-week course in London that guides learners from total beginner level to Level 4 of our curriculum. We're starting this Saturday, and we have just a couple of places remaining, so if you're interested in taking part then make sure you get in touch today! All the info is on the page at https://www.violinschool.com/violincourse/.
The content of the Violin Course will also form the basis of our online learning programs, so even if you can't make it to London, then keep an eye on our blog, our social media and our newsletter. Over the coming weeks we'll be sending you lots of video lessons, sheet music and other great resources to help you make 2017 the year where you take your violin-playing to the next level!
Happy New Year!
We're thrilled to announce that ViolinSchool is now moving to www.ViolinSchool.com.
Between today (1 September) and Christmas, we'll be rolling out our long-awaited Digital Learning Platform.
If you didn't see our crowdfunding campaign last Christmas, here's a quick reminder...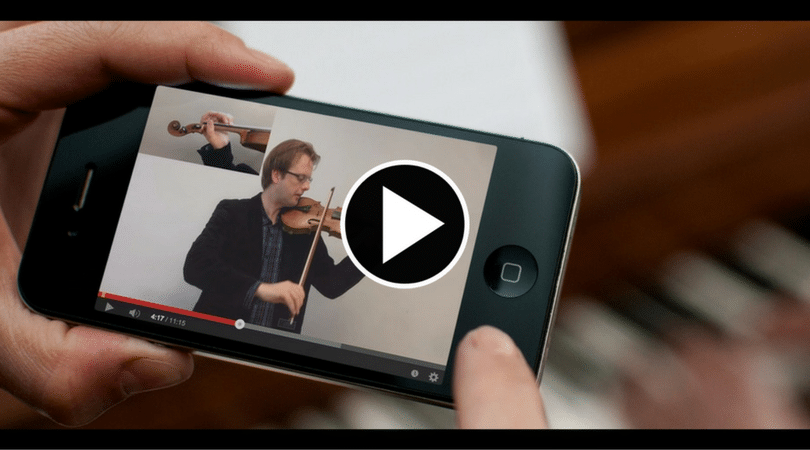 What's coming up...
We're rolling out ViolinSchool.com slowly but steadily between now and Christmas, releasing the learning programs phase by phase. Everything is designed to work beautifully on mobile and tablet first, so that you can learn from anywhere, whenever it suits you. Here's a rough release schedule of what you can expect in the next few months (exact dates subject to change!)...
***
SEPTEMBER
1st September - www.ViolinSchool.com is now live
Week of 5th September - Daily publishing & member updates restart; London Events program announced
(New videos, sheet music & practice tools available every week - new learning resources available daily!)
9th-11th September Christian Howes visits VS London - workshops, filming & live events (booking opens imminently!)
Late September - first 'Setup' & 'Beginner' Online Courses released
Late September - Violin Shop finder beta release
OCTOBER
Early October - Online reviews for Instruments & Accessories, Sheet Music Books;
Early/Mid October - Exam Preparation videos start to be released
Mid October - further Beginner courses released; How to Practice online course released
22nd October - all-day ViolinHub event in London
Mid/Late October - VS Social network released (integrated into new Learning Platform)
NOVEMBER
Saturdays - Violin Orchestra takes place in London
Early November - More community & social tools, to be announced!
Early/Mid November - Level 1 & 2 online courses released
DECEMBER
Mid December - Level 3 online course release
Late December - Violin Orchestra events in London, webcast
***
There's loads more planned for 2017, so stay tuned!
***
---
"What happened to the beta site?" - Around 100 or so VS learners will be aware that we ran a test of a 'beta' version of the new learning platform in the Spring, which we had hoped to launch in May of this year. Unfortunately we ran into difficulties with our technology partner, and that part of the development project was cancelled.
We took everything back in-house, and have been working with freelance developers for the last 3 months to create a new ViolinSchool.com that we know will stand the test of time... but that's why it took so long! Thanks so much for your patience and support as we brought everything together.
---
Already a member of ViolinSchool?
ViolinSchool.com runs on an entirely new system that's completely separate from our old site at ViolinSchool.org. Therefore, existing ViolinSchool members will need to have their account transferred over to the new site.
Either you can sign up to the new site yourself (choose Premium membership here), and then cancel your membership on the old site. Or you can just fill in your details here, and we'll do it for you!
---
As ever, if you have any questions please don't hesitate to contact our friendly support team at [email protected]. We can't wait to share everything with you over the coming months, and look forward to helping you to move ever closer towards your violin-playing goals!
- The ViolinSchool Team
If you're reading this, you've chanced upon www.violinschool.com during the test period...
The new site will be available soon, but for now you can still access our old site at www.violinschool.org.
Please return here in a few days to enjoy the new Learning Platform!